News & Notices
Architect Timothy Hartung Named USITT Distinguished Achiever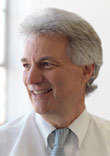 Timothy Hartung, an accomplished architect whose work includes many well-known theatres, will receive the 2013 USITT Distinguished Achievement Award in Architecture at USITT's 2013 Annual Conference & Stage Expo March 20-23 in Milwaukee.
Mr. Hartung is a founding partner and managing principal at Ennead Architects LLP (formerly Polshek Partnership) in New York. He has been a leader on USITT's Architecture Commission and established the Institute's annual Architecture Awards recognizing design excellence in performing arts spaces.
He will receive the award in a special ceremony Friday, March 22, at the Conference. It recognizes his "instrumental work in the design of numerous outstanding performing arts projects," and "decades of leadership in elevating the visibility and effectiveness of the USITT Architecture Commission."
Mr. Hartung embraced architecture early. He received his bachelor's in architecture from Penn State in 1973 and went to work for Damianos and Pedone, a firm with a strong interest in the arts. In 1978 he helped found Polshek Parnership -- where he has specialized in theatre and museum work – and oversaw the firm's restructuring as Ennead in 2010.
Among the performing arts centers he has designed are Stanford University's Bing Concert Hall, the Oklahoma City Civic Center Music Hall, and the Santa Fe Opera. He also oversaw master plans for Carnegie Hall and Boston's Symphony Hall, among others.
His recent projects include several expansions to the Smithsonian Institution in Washington, D.C.; the Museum of the City of New York, and the Ashville Art Museum in Ashville, North Carolina.
Mr. Hartung has been active on USITT's Board of Directors and its Architecture Commission, which established the Architecture Awards in 1994. Since then, four of his projects have received USITT awards: The Ed Sullivan Theater Adaptation in 1996; the Holland Performing Arts Center in Omaha, Nebraska, in 2007; the Burgin Center for the Arts in Mercersburg, Pennsylvania, in 2008; and Allegheny College's Vukovich Center for Communication Arts in 2010.
His other awards, including many from the American Institute of Architects, fill two pages of his resume.
In a 2010 interview with New York's Metropolismag.com, Hartung attributed his and Ennead's success to "embedding ourselves in the culture of the client."
"Our clients appreciate that we're thinking the same way they are," he explained. "We're not coming from the moon, trying to convince them that they should do something that is inherently different from their own mission."
Fans can hear more about Mr. Hartung's illustrious career when he receives his award at the USITT Conference at Milwaukee's Delta Center. The Friday award ceremony and reception begin at 7 p.m. March 22, and include the presentation of the 2013 Architecture Awards. Friday morning, he also will participate in a panel featuring all eight 2013 USITT Distinguished Award Winners in Conversation.