Conference & Stage Expo
Seek 2014 Award Nominees, Session Suggestions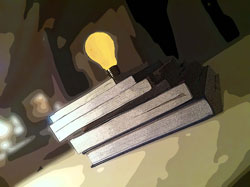 Know an outstanding high school or secondary education teacher who demonstrates exemplary pedagogical skills and an outstanding commitment to the training of future theatre artists? The Education Commission is looking for nominations for the 2014 Distinguished Achievement Award.
Nomination letters should be addressed directly to the Education Commission and may not come from the nominated individual. The recipient of the Education Commission's Distinguished Achievement Award is recognized at the USITT Annual Conference & Stage Expo as part of the Commission's event programming.
The following criteria should be considered while crafting a nomination:
Membership in USITT is not required although activity in national organizations of theatre practice is noteworthy.
Demonstration of a strong history of notable student achievement during and beyond the secondary education level is extremely important. Specific profiles of such success should be outlined.
While a nominated educator may not have a discernable national reputation, the nomination letter must clearly demonstrate possession of an "extra something" which sets the instructor apart from other colleagues.
Specific, strong support from one or more organizations such as EdTA, ITS, or VTA is a very useful platform upon which to build a nomination. Such groups may wish to create nomination letters or dossiers to submit to the Education Commission.
All nominations are due by March 8, 2013 and should be submitted to: Professor Matthew Allar, USITT Education Commission DAA Chair, College of William and Mary, Department of Theatre, Speech, and Dance, P.O. Box 8795, Williamsburg, VA  23187
The Education Commission is also looking for input on programming for the 2014 Annual Conference & Stage Expo in Fort Worth. Topics related to theatre technology and education can be submitted via a proposal form on the USITT Education Commission website or click here. Proposals are due by March 11.
Questions about the submission process or appropriate topics should be directed to usitt.educomm@gmail.com