Conference & Stage Expo
Costume Poster Sessions Offers Many Techniques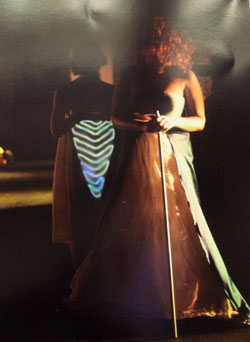 Participants in the 17th Costume Design & Technology Poster Session will be featured from 1 to 2:30 p.m. Thursday, March 21 at the 2013 Conference & Stage Expo in Milwaukee.
Those attending will be able to meet and chat with the presenters and ask specific questions about what they are sharing. In many cases, the actual pieces that are the topics of the presentations will be available.
There are 25 posters being presented this year. Learn about helmets (medieval and WWI), 1940s hairstyles, and pantyhose wigs. See others' solutions for rich opera costumes, embroidered patches, and clever boning and hoop skirts. Want to use half-scale forms more after last year's hands-on sessions?
Learn design and patterning techniques for the classroom. See tips and tricks for detailed and handwork techniques, real and faux, for tatting, glove making, and blackwork.
Crave high tech, order and/or clear communication? Find the posters on iPAD uses, fabric storage, silhouette cutting machines, and visual dressing sheets.
Love costume history? There will be presentations on Felician nun's habits, period color palettes, and transforming historic stays and corsets. Using lighted costumes or costuming non-humans? Find the posters on glowing hearts and lighted fairies, a latex reptile man, and a bronze statue.