Conference & Stage Expo
Only in Milwaukee: Sessions & Events That Showcase Local Arts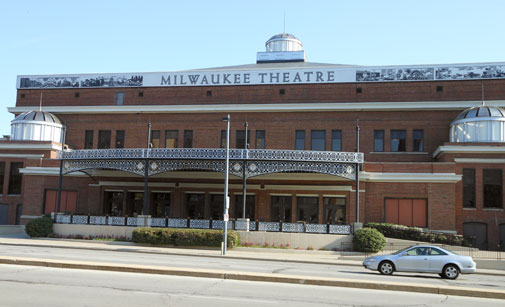 You've heard the real estate maxim, "Location, location, location!" USITT is taking advantage of our 2013 Annual Conference & Stage Expo location to bring you some of Milwaukee's artistic treasures, via sessions and tours you can experience "Only in Milwaukee."
Besides our daylong Regional Events, our Milwaukee planners have arranged a few shorter "OIM" events that capitalize on the wealth of local talent.
WEDNESDAY, MARCH 20:
~ 9:30 -10:45 a.m., Costume Solutions in Dance. The Milwaukee Ballet, founded in 1970, has become one of the nation's top ballet companies, and Mary Piering has been its Costume director since 1984. Join her and University of Wisconsin-Milwaukee Costume Design Prof. Pamela Rehberg for a look at pattern, construction, and craft solutions that have been part of the Milwaukee Ballet's lavish production work. Delta Center Room 202BC.
~ 9:30 -10:45 a.m. Historical Theatre Preservation. Milwaukee has successfully saved and preserved several historical theatres, including Milwaukee's "jewel box," the 1895 Pabst Theatre. Join Casey Guilfoyle, a stage technician and licensed electrician who has worked on several historic projects, for a discussion of these efforts as case studies for theatres in the area. Delta Center Room 201C.
~1- 2:15 p.m. Collaborating on Peter and the Wolf. Learn how the Milwaukee Ballet Academy, the Milwaukee Youth Arts Center and the Milwaukee Youth Symphony Orchestra collaborated to mount an all-student production of Peter and the Wolf in 2012. This extraordinary cooperative venture between youth and adult performance groups set an inspiring example. A discussion of how they did it includes Artistic Director John Maclay of First Stage Children's Theatre, Choreographer Michael Pink of the Milwaukee Ballet Academy, Conductor Carter Simmons of the Milwaukee Youth Symphony and Costume Designer Pam Rehberg of UW-Milwaukee. The shows were held at the Milwaukee Youth Arts Center, itself a collaboration between First Stage and the MYSO. Delta Center Room 103D.
~ 1- 4 p.m. Milwaukee Theatre Walking Tour. Visit the Milwaukee Repertory Theater's three-theater venue housed in a former power plant; the beautifully restored Pabst Theatre; the Riverside Theatre concert hall and the Turner Hall Ballroom, both historic gems that were rebuilt after devastating fires; and the history-laced Milwaukee Theatre --- all within four blocks of the Delta Center! Led by experts: UW-Milwaukee Professor LeRoy Stoner and Theatre Architect Scott Georgeson.
THURSDAY, MARCH 21:
~ 9:00-11 a.m. Painting the Skylight Theatre. Catch a shuttle to the Skylight Music Theatre's former commercial warehouse building to see and hear how Skylight renovated the interior of its 358-seat Cabot Theatre to resemble an opulent European opera house. Join Diane Fargo, professor of scene painting at Boston University, and Cobalt Studios' Rachel Keebler for a tour and description of how the faux painting work was conducted.
~ 9:30-10:45 a.m., Milwaukee Skylight: A Theatre in the Void tells the story of how an empty warehouse in Milwaukee's historic Third Ward was converted by the Broadway Theatre Center into a theatre building that now houses the Skylight Music Theatre, Milwaukee Chamber Theatre and Renaissance Theaterworks – spurring growth and investment in the area. Theatre architect Scott F. Georgeson of Milwaukee's Workshop Architects Inc. leads the sesson. Delta Center Room 201 C.
~ 12:30-3 p.m. Theatre of the Fraternity Tour: Creating the World of Freemasonry. A shuttle to the Humphrey Scottish Rite Masonic Center transports you to the world of Freemasonry to explore the magnificent settings of the Wisconsin Scottish Rite Foundation. The Freemasons used painted illusionary wing and drop settings to enhance the initiation experience and capture the market of "a nation of joiners." Presenters C. Lance Brockman, professor of scene design at the University of Minnesota, and Wendy Waszut-Barrett, an expert in historic backdrops, take you on a historical and visual journey. Sign up at 7:45 a.m. Wednesday.
~ 1-2;30 P.M. The Power Plant and the Rep: 25 Years Later. Take a look back at how Milwaukee's circa-1900 East Wells Power Plant, known as the Oneida Street Station, was converted in 1987 to the Patty and Jay Baker Theater Complex, housing three theatre spaces for the Milwaukee Repertory Theatre. Find out how the space is used today in a discussion featuring users, consultants, and architects, led by Scott Georgeson. Delta Center Room 201C.