News & Notices
Announcements
Space Still Available at Arduino Session
There is still space available for hands-on participants in the Arduino Super Session to be held Saturday, March 23 from 2 to 4:45 p.m. as part of the Milwaukee 2013 Annual Conference & Stage Expo.
This is an introductory hands-on Arduino super-session. Participants will have an opportunity to program the Arduino to control real world devices. An Arduino is an inexpensive, open-source, physical computing platform based on a simple microcontroller board and a free development environment for writing software for the board. The first hour will be dedicated to software and hardware setup using the Arduino Integrated Development Editor. Students will develop a basic "Hello World" program with LEDs. The remainder of the session will focus on input with sensors and controlling output devices.
This session is limited 32 participants. Bring project ideas and give it a go! All hardware will be supplied for this session; participants must provide a computer with USB port and software downloaded before arriving at the convention center. The Arduino Software can be downloaded at arduino.cc/en/Main/Software. Processing can be downloaded at processing.org/download.
To sign up as a participant, e-mail name, phone number, and e-mail address to usittarduino@gmail.com. Observers are welcome to sit in on the session.
Raffle, Auction, and Boutique Proceeds to Benefit Behind the Scenes
The Long Reach Long Riders and The ESTA Foundation will host their annual raffle to benefit Behind the Scenes at the 2013 Conference & Stage Expo in Milwaukee, Wisconsin  March 21 to 23. This year's raffle will celebrate the 10th anniversary of the Long Reach Long Riders annual motorcycle ride. The Riders have raised over $350,000 for charity.
The Behind the Scenes Boutique will also be open featuring the new USB LED Ghostlight, an assortment of great Behind the Scenes swag, and the famous Long Reach Long Rider T-shirts and kazoos.
Winning tickets for nine regular prizes and one grand prize will be drawn at 1 p.m. on Saturday, the final day of Stage Expo.
The prizes are: Grand Prize, Spotlight with Renderworks provided by Nemetschek Vectorworks; Stage Technician's Kit provided by BMI Supply; $250 Visa Gift Card provided by Daktronics; Enttec DMX USB PRO Mk2 with case provided by Enttec Americas; Kindle Fire provided by InterAmerica Stage; 16GB Wi-Fi iPAD Mini provided by iWeiss; 50 Sheets of Gel provided by Lee Filters; $250 Gift Certificate to rosebrand.com provided by Rose Brand; $250 Gift Certificate at Sapsis Rigging provided by Sapsis Rigging; and a Full Conference Registration for the USITT 2014 Conference & Stage Expo provided by USITT.
Pre-drawing activities will include the ever popular kazoo parade, some swag give-aways, a live auction of two tickets to a Broadway show along with a backstage tour donated by Local 1 IATSE, and custom pens and a seam ripper handcrafted by Shan Ayers.

All proceeds from the raffle, auction, and boutique sales benefit Behind the Scenes.
Launch Inspired Teaching at Expo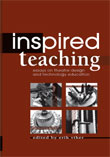 A useful compendium of insights and techniques for teaching is being released at the Milwaukee 2013 Annual Conference & Stage Expo. Inspired Teaching: Essays on Theatre Design and Technology Education, edited by Erik Viker, will be sold at the USITT Marketplace at Stage Expo. In April, the collection will be available as either a print-on-demand or e-book from the USITT online bookstore.
The book is published by the Institute as a member benefit and includes essays provided by over 20 members of USITT with more than 400 years of collective teaching experience. It includes a forward by Richard Durst, President Emeritus of Baldwin-Wallace College, a former USITT president, and a Fellow of the Institute.
Tour Stage Expo With a Pro
Join one of four special tours of Stage Expo 2013 – with seasoned professionals who can provide connections and information. Sign up at the Network Nexus area of the USITT Booth and select your guide: Sylvia Hillyard Pannell, costumer; Rick Thomas, sound designer; LeRoy Stoner, lighting designer; or Dennis Dorn, technical Director.
Visit the Innovation Gallery and Innovation Stage to learn about the latest in products and technology.
Standards in Public Review, Announce Safety Alliance
Three PLASA standards are now in public review, and PLASA has formed an alliance to promote safety in the entertainment industry.
The public review materials for the standards are available until April 1, the last day to comment for:
BSR E1.44 – 201x, Common Show File Exchange Format For Entertainment Industry Automation Control Systems – Stage Machinery, defines a common show file format for the exchange of automation control data between control systems by different manufacturers of stage machinery.
BSR E1.45 - 201x, Unidirectional Transport of IEEE 802 data frames over ANSI E1.11 (DMX512-A), defines a minimal method to transport IEEE 802 data frames unidirectionally over ANSI E1.11 physical links using an Alternate START Code. The primary idea is to allow communication of 802 data to luminaires over an ANSI E1.11 DMX512-A datalink for data transmission from those luminaires using Visible Light Communication, IEEE 802.15.7.
BSR E1.48 - 201x, A Recommended Luminous Efficiency Function for Stage and Studio Luminaire Photometry, specifies an energy-based luminous efficiency function V(lambda) based on recent research for lumen output measurement for any stage or studio luminaire in which 20 percent or more of the output power is at wavelengths shorter than 500 nm. This standard is intended to encourage the use of a far more accurate V(lambda) function in the entertainment industry.
For more information, contact Karl G. Ruling, technical standards manager, PLASA, 630 Ninth Avenue, Suite 609, New York, NY 10036; karl.ruling@plasa.org.
PLASA and the Event Safety Alliance formally announced their mutual endorsement in the ongoing efforts to raise awareness and use of industry best practices and technical standards throughout live entertainment production.
For more information about the Event Safety Alliance visit www.eventsafetyalliance.org. For more information about PLASA's Technical Standards Program visit tsp.plasa.org
Deadline Nears for WSD, Scenofest
World Stage Design is an opportunity for any and all USITT members to exhibit their designs internationally. WSD is a competition open to any designer in any area of performance design.
The deadline for submitting interest is March 15. Information and applications are available at www.wsd2013.com/exhibition.
Interested students and colleagues should register to receive updated information about  World Stage Design/Scenofest in September in Cardiff, Wales.
Scenofest includes performances, discussions, lectures, workshops and informal interaction among the leaders in performance design from around the world.
For more information, contact Michael Ramsaur at mram@stanford.edu.
Costume Symposium on Wearable Technology
Costumes and electronics do go together. Learn about electronics and create projects incorporating various kinds of electronics within costumes or costume pieces at this year's USITT Costume Symposium.
Wearable Technology is now open for registration. USITT is offering a special rate for those who register early, and a student discount is available.
Wearable Technology will be June 14 to 16 at the Rochester Institute of Technology in Rochester, New York. Each participant will receive instructions illustrating step-by-step processes for building circuits, sample programs for the microprocessor, and photos and illustrations of examples as well as a kit of electronics to use in the workshop projects.