News & Notices
USITT to Honor Sound Designer Otts Munderloh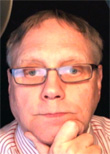 Renowned Broadway Sound Designer Otts Munderloh will be honored with a USITT Distinguished Achievement Award in Sound Design and Technology at the 2013 Annual Conference & Stage Expo March 20 to 23 in Milwaukee, Wisconsin.
Mr. Munderloh has worked with many famous artists including Bob Fosse, Mike Nichols, Jerome Robbins, and Michael Bennett, in a medium that has become more malleable with changing technology.
He began mixing sound for theatre in his 20s and was working as a sound designer on Broadway by 1975, when director/choreographer Michael Bennett hired him for the original production of A Chorus Line. The show became a smash hit and broke a record for longest running Broadway show eight years later.
Four decades of Broadway credits followed for Mr. Munderloh including sound design for such celebrated shows as 1980's Harold and Maude, the 1986 revival of Cabaret with Joel Gray, 1988's Macbeth starring Glenda Jackson and Christopher Plummer, and Lily Tomlin's acclaimed one-woman show, The Search for Signs of Intelligent Life in the Universe (1985).
Over the years, he and others adapted to advances in sound that changed live theatre. In a 1987 Chicago Tribune interview, Mr. Munderloh said unamplified acoustic sound had vanished from Broadway.
"You can't hear singing from their mouths, even if you're sitting in Row D. You hear it from a speaker," he explained, adding that modern shows "rise and fall on how good your sound operator is."
Besides his own long run on Broadway, Mr. Munderloh extended his work to diverse off-Broadway, pre-Broadway, regional theatre, and opera productions such as San Diego's La Jolla Playhouse production of Thoroughly Modern Millie in 2000 and the Lyric Opera of Chicago production of Sweeney Todd in 2002. He also designed sound for concerts including Mandy Patinkin's Celebrating Sondheim show on Broadway in 2002 and Patti LuPone on Broadway.
USITT's 2013 Distinguished Achievement Award will recognize Mr. Munderloh for his extensive contributions to the art of theatre sound, "moving from dials, to faders, to touch-screens, all the while maintaining an unwavering commitment to theatrical sound."
Besides honoring him with an awards presentation on Thursday, March 21, USITT will feature Mr. Munderloh on a panel of distinguished award winners in conversation about their careers and their visions on Friday morning, March 22.