News & Notices
Cobalt Studios to Receive 2013 USITT Special Citation for Education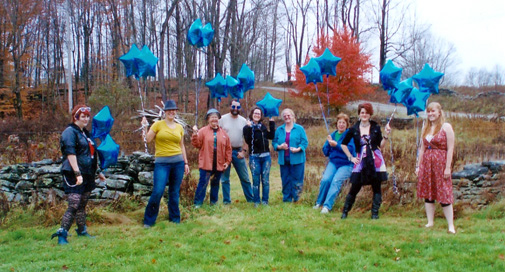 Cobalt Studios, the scene-painting studio in White Lake, New York, will receive USITT's 2013 Special Citation for Outstanding Work in Education for its 25 years of dedicated service in training scenic artists.
                
The award will be presented to Cobalt co-founders Rachel Keebler and Howard Jones at the 2013 Conference & Stage Expo March 20 to 23 in Milwaukee. They began Cobalt Studios in 1988 to train scenic artists after having taught at large universities, including the University of North Carolina School for the Arts.
                
"Over the years, we received many calls from employers asking us to recommend painters. We found that the list of qualified people we could recommend was too short," Ms. Keebler wrote on Cobalt's website. They decided to build a working studio and scene-painting shop where artists could receive intensive hands-on training with programs lasting weeks, months, or up to two years.
Set in New York's Catskill Mountains, Cobalt is just four miles from the site of the original 1969 Woodstock concert venue. Student artists paint, learn, and work alongside professionals at the studio, producing custom stage backdrops for actual theatrical productions. Participants stay in a farmhouse that accommodates a dozen people and share cooking and chores, ideas and inspiration, and artistic community.
                
"Cobalt Studios is modeled after the guilds from the Renaissance," Ms. Keebler writes. "Here we combine the classroom experience with the workshop experience... where a cohesive group of artists nurtured a respect for their craft as an active part of their community life."
"The program is also modeled after Taliesin, Frank Lloyd Wright's school for architecture. For half of the time, professionals teach classes to the students: a combination of lectures, demos, individualized projects and practice. For the other half of the time, students become apprentices on real jobs, applying class lessons in full scale, working with and under the watchful eyes of professionals."

This method allows Cobalt students to spend more time experimenting with newer materials, inventive techniques, and creative design than most academic institutions are able to offer. Summer programs draw experienced high school and college teachers seeking ways to better prepare their students to pursue the art of scene painting.
USITT's Education Commission has planned an award ceremony for Cobalt for 5:30 p.m. Thursday, March 21, and asks that attendees wear Cobalt T-shirts or its trademark color blue. The following morning, March 22, at 9:30 a.m., Ms. Keebler and Mr. Jones will join USITT's other Distinguished Award winners in a conversation about their lives, philosophy, and experiences.