News & Notices
Student Board Fellowship/Mentorship Program Launched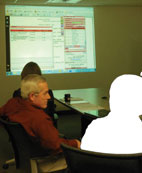 An exciting new program has been launched which will provide an opportunity for student and early career members to gain leadership training. The new Student Board Fellowship Program will allow emerging professionals to shadow the experience of serving on a non-profit board, with emphasis on membership arts and culture organizations. While the primary purpose is to introduce those chosen to a governance structure, future board service is a potential outcome.
Two of those who apply for the Student Board Fellowship Program will be chosen for one year appointments and participate in USITT Board meetings and committees. Each recipient will be assigned a Board mentor for the year and will participate in two to three electronic board meetings and face to face meetings during their year as well as the annual summer board retreat.
Application deadline is April 25, and those who are chosen to participate will be notified by May 31.
In addition to board meetings, the student or young professional members will be part of one board committee or special project during the year. They will be non-voting participants on the board.
Each will have travel and hotel expenses and Annual Conference fees covered by USITT. A one year Student or Early Career membership is also included.
For the 2012-13 governance year, President Lea Asbell-Swanger invited two students to test the model. Marcella Dova and Laura Blegen, both students at the Bolz Center for Arts Administration at UW-Madison have been providing constructive feedback during this test phase.
After a discussion at the August Board meeting, Lea appointed a committee to create criteria and applications for choosing recipients. Co-chairs Martha Marking and Sherry Wagner-Henry have been working with Brooke Feldman, Emily Gill, Jill Maurer, Michael Mehler, and Dick Devin to guide the planning process
To apply, click here for the 2013-14 board year.
Applicants will need to provide a cover sheet, statement of purpose, resume, and letters of recommendation. Finalists will be interviewed.
Students and young professionals and educators are encouraged to spread the word about this new opportunity and to apply by the April deadline! Membership is not required to apply.