News From
Contributing Members
MainStage LLC: Partnership Offers More to Customers
MainStage LLC, a dynamic new partnership among Mainstage Theatrical Supply, Inc., Production Advantage, Inc., and Vincent Lighting Systems was recently formed. While the three companies who have joined to form MainStage will change slightly, all remain in the same locations, staffed by the same people, and continue to provide excellent products and services.
Advantages of the merger are that customers are offered more locations, expanded product lines, and robust rental and production services.
Daktronics, Inc.: Church Adds LED Displays as Part of Campaign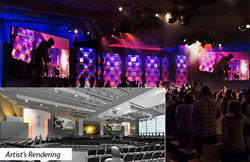 As part of its Decade of Destiny campaign, Saddleback Church, based in Lake Forest, California, has added high definition LED displays supplied by Daktronics, Inc. to its facility.
The Decade of Destiny is the church's 10-year vision for its members. Church leaders looked at different types of technology to showcase the church's services.
For more information, visit Daktronics at www.daktronics.com; e-mail the company at sales@daktronics.com; call 605-692-0200 or toll-free 800-325-8766 in the United States; or write to the company at 331 32nd Ave. PO Box 5128 Brookings, S.D. 57006-5128.
Philips Strand Lighting: LED Practical, Educational at Highlander Auditorium
The Highlander Auditorium is a primary teaching location for the Baldy View Regional Occupational Program (BVROP) theatre program. Technical Director Bill Cox leads the instruction and used allocated lottery funds to upgrade the lighting system with 16 PLCyc LED luminaires from Philips Strand Lighting and Philips Selecon.
In addition to the practical theatrical applications for the Highlander Auditorium, the luminaires are useful in the career technical education programs of the BVROP.
"I am using the new lights to teach color theory and how a basic theatrical lighting system works," Mr. Cox explained.
For more information visit www.strandlighting.com or www.seleconlight.com.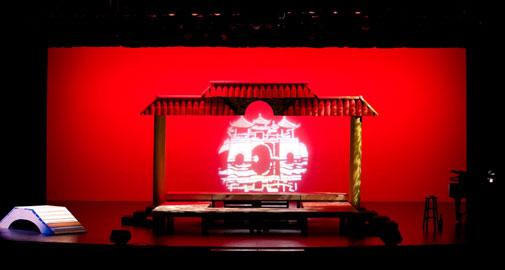 Creative Stage Lighting : Company Announces Staff Changes
Creative Stage Lighting has announced a number of staff changes to prepare the company for growth in 2013.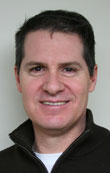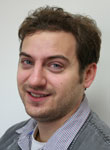 Michael Carattini has joined the company as director of sales. He previously held leadership roles with entertainment lighting companies including Coemar, Robe, Strong, and DTS Lighting. Mr. Carattini brings in-depth understanding of dealer sales and a high-level understanding of lighting control platforms, including Avolites lighting control. He will be responsible for sales strategy, including defining new regions and markets, determining product and market focus, and developing sales tactics. He also will be CSL's sales manager in the central region of the United States. He will report to CSL President George B. Studnicky III.
Steve Washington has joined the company as director of business development. He had leadership, development, and operations positions with Vari-Lite, PRG, and Wybron. Mr. Washington joins CSL with an extensive background in media servers and lighting control consoles. He will be responsible for developing relationships with vendor partners and overseeing certain operations, including product support. He will be CSL's sales manager in the western region of the United States and report to Mr. Studnicky III.
Within the company, George B. Studnicky IV has become vice president. He has served in the company's rental and production operations since 2000 and has been department manager since 2007. As vice president, he will be responsible for overseeing special projects within the company and working closely with the CSL management team.
Creative Stage Lighting is a manufacturer, wholesale supplier, and distributor of products for the stage and theatrical lighting professional, including lighting fixtures, consoles, lamps, filters, cables, and other lighting and electrical accessories.
Production Resource Group, L.L.C.: Mbox Studio Available
Production Resource Group, L.L.C. (PRG) announced that Mbox Studio, a software-only media server application, is now available for purchase. A compact version of the popular Mbox media server, this product can be easily installed and operated on a user-supplied, Intel-based Apple Mac computer (Intel processor, OSX 10.6.7 and higher).
Mbox Studio Version 3.6 is the first public release of the Mbox Studio. Users of Mbox Studio may also download Mbox Director, a graphical user interface (GUI) control application, at no charge. For more information about MBos Studio, visit: www.prg.com/product/mbox-studio. For more information about PRG, visit www.prg.com.
ETC: Vienna State Opera Chooses Gio System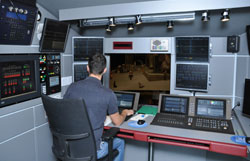 After an extensive search over a number of years, The Vienna State Opera has taken delivery of an ETC Gio lighting system The theater invested in four Gio desks, along with two ETC Remote Processor Units (RPUs) and an ETC Ion system to cover the main stage lighting, auditorium, and Kinderzelt, a tent on the roof for children.
For more information on ETC and its products, visit www.etcconnect.com
Meyer Sound Laboratories, Inc.: Melbourne's Hamer Hall Features Sound Systems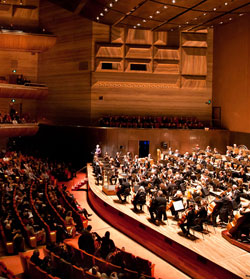 Following a two-year, $136-million inside-out redevelopment, Australia's Arts Centre Melbourne reopened its Hamer Hall with one of the Southern Hemisphere's largest and most sophisticated Meyer Sound Laboratories, Inc. systems. Featuring the advanced precision beam steering technology in the CAL column array loudspeaker—which began shipping this year -- Hamer Hall is now outfitted with 147 self-powered Meyer Sound loudspeakers operating in three modes tailored to different acoustic and amplified events.