News From
Regional Sections
Upstate New York: Workshop with Beijing Olympics Designer
Han Lixun, the chief designer for 2008 Beijing Olympic Opening Ceremony, will be in the United States to present his work and to speak with university students. The Upstate New York Regional Section will host him for a workshop  March 9 at the University at Buffalo Center for the Arts in Amherst, New York.
His keynote will reveal behind scenes stories of the ceremony -- including interactions with well known figures in contemporary arts.
From conceptualization and bidding to material and technical choices, from contextualizing the design in a given space to the collaboration with architects and engineers, from experimentation on mechanical, multi-media and lighting devices to testing the validity of his visual modeling, from what were not realized in the Ceremony to what has happened in China's design tech world after the Ceremony, his presentation will provide insight into China's historical inventions and contemporary culture, including its politics, ethics, aesthetics, technology, and the world of design.
He will discuss ways to meet today's societal demands in the field of arts, providing career building skills and strategies. His hour-long presentation will be followed by a question and answer opportunity.

Han Lixun graduated as a scenic designer from Shanghai Theatre Academy, China in 1985, and later studied the art of space design at Art Academy in Dusseldorf, Germany (under Karl Kneidl). His career spans theatrical design, event design, interior design, theme-park design, public art, art installation, and site specific theatre.
More information can be found here.
Desert State: Phoenix Site of Annual Meeting, Conference
On January 21, the Desert State Regional Section held its annual meeting and conference at Xavier Preparatory Academy in Phoenix, Arizona. Preston Dolye and his staff graciously gave up their day off and were extremely accommodating.
Rose Brand's Peter Monahan gave the keynote address, and eleven seminars were held. Barbizon Arizona sponsored breakfast for the attendees and Clearwing brought their grill and cooked up burgers with all the fixings. The Section also presented the immediate past Chair, Fran Sutherland, with a gavel for her years of service as the Chair and ringleader.
Sessions included "What to Bring to an Interview" in the morning and mock interviews were held for participants in the afternoon. Both college and high school students had the opportunity to practice interviewing skills with local industry professionals. Clyde Parker and Anthony Rufulo joined Lisa Adamsen and Ben Alexander in this session.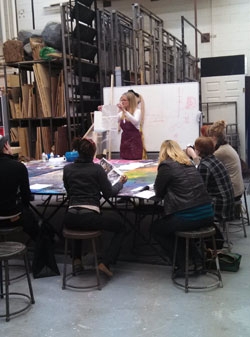 Gail Wolfenden-Steib demonstrated the "The Airbrush is Your Friend," and Nathan Ward, an instructor at the host facility, educated the group on "The Art and Craft of Steel." Participants even had the opportunity to practice bending steel. Jill Maurer and David Empey brought lighting toys and explained "The Future Without the Light Bulb," and Almir Lejilc explained in the audio session "Which is the Right Mic." Tim Trumble enlightened the group on "Photographing Your Show," and Peter Monahan clarified "Everything You Didn't Think You Needed to Know About Your Soft Goods." Erica Black and Tom Aberger provided tools to help in "Dealing with People You Can't Stand."
Not only were there seminars and discussions, Desert State acknowledged two University Chapters with both a certificate and monetary compensation. To qualify, a Student Section needs to have a minimum of five members, be officially sanctioned by their educational institution, list their fund raising goals and activities, and explain what the funds will be used for. Northern Arizona University and Arizona State University were this year's recipients.
Desert State also awarded three Student Award Scholarships to attend the USITT Annual Conference & Stage Expo and a one year National Student Membership. Congratulations to Julia Glover, Gabriela (Gabby) Higuera, and Stephanie Nguyen.
The Section Meeting in Milwaukee will again have breakfast sponsored by Barbara and Louis Bradfield, Friends of Desert State USITT, and Jennie and Jerry Gorrell of Theatre Safety Programs.  
Southwest: Winter Symposium Breaks Records
Members of Southwest Regional Section, other professional theatre practitioners, and related artists from around the country gathered for a weekend of workshops, discussions, speeches, design/tech responses, competition, and networking January 18 through 20. The Winter Symposium held at Sam Houston State University in Huntsville, Texas was the best attended in the history of the organization.
Students got a chance to set up their displays Friday night. By Saturday morning, 71 entries were in place and the attendees gathered for a welcome followed by the first round of workshops and responses to the students' work.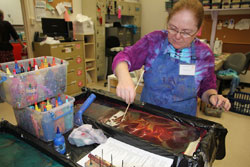 Saturday provided the participants with hours of design/tech responses, 11 workshops, and two thought-provoking speakers.  Judy Dolan, the 1997 Tony Award winner for Best Costume Design, and Arthur Edward Chadwick, the set designer for Dexter and 2012 Criminal Minds, shared their thoughts with the group. Sunday there were 12 more workshops, a membership meeting, and finally the awards ceremony for the design/tech competion. Workshops were held in making tutus, cold foam make-up, dyeing, puppetmaking, scene painting, welding, microphone placement, sound engineering, projection surfaces, lighting for dance, rendering techniques in Photo Shop, production work and paperwork, production management, and interviewing.
More than 200 people from Western Arkansas, Oklahoma and Texas, and guests from California, Massachusets, and Virginia participated in the event.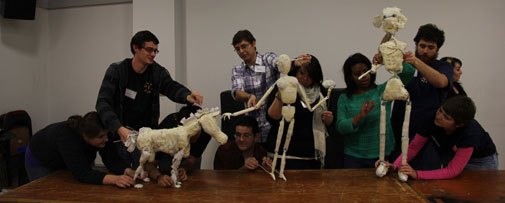 Southern California: Career Fair, Design Competition
The Southern California Regional Section held its Sixth Annual Career Fair and Design Competition on the campus of Cal State Los Angeles. Great thanks go to hosts Anne McMills and Meredith Greenberg. The day kicked off with a short Section meeting and an inspiring address by keynote speaker Jim Moody, a Fellow of USITT.
Many professionals and educators volunteered to do portfolio reviews for the students. Staff and student volunteers led visitors on tours of the Luckman Theatre complex. Many vendors were on hand to talk to participants, show off new products (sneak peek at the new ETC board), and provide information on internships and summer positions with their companies. Vendors who sponsored and hosted tables at the event were Rose Brand, ETC, GAM, Selecon, Strand, Disney Technical Services, Debbie's Book, PCPA, PRG, Cal State LA, Cal State Fullerton, MPA, and H & H Specialties.
Sessions and workshops included " A Look at the New LED Fixtures" by David Hilton of ETC; "Stage Management: Student to Pro" by Ms. Greenberg of CSULA; "Transferring the Rendering : From Small Art to Big Arts" by Mary Heilman of Cal Arts; "Employers' Expectations of Costume Shop Staff" by Suzanne Shultz Reed of Pomona College; "Sketch-up; Using Current Technology to Spice Up Your Design" by Chris Sinnott of Palomar College; and "Multi-media for the Theatre" by Adam Flemming.
Committee members included Ms. McMills, Ms. Greenberg, Jeff Flowers, Jeff Allen, Brian Reed, Steve Schweitzer, Chris Sinnott, Michael Vitale, Donna Parsons, Jeff Hickman, Thomas Hird, James Taylor, and Jon Lagerquist.
Section members are looking forward to next year's event on the campus of PCPA in Santa Maria.