News From
Around the Institute
Best Wishes on Addition
Great good wishes to Health & Safety Commissioner David Glowacki on the addition of a new, future stagehand to his family. Velena Kathryn Grace Glowacki arrived January 16 with vital statistics of 9 pounds, 4 ounces. She was 20 inches long and may account for her father's sleep-deprived appearance the next time you see him.
Warm congratulations to all involved in this production.
Rigging Expert Sweet Retires

Respected theater-technology expert Harvey Sweet has retired from ETC (Electronic Theatre Controls, Inc.), after four years as rigging senior product manager. He finished his tenure on December 31.
Said Dr. Sweet, "Having worked for over 59 years -- most of them in theatre production and theatre equipment manufacturing/installation industries, with the last four at ETC -- the time has come to hang up my hammer and my keyboard."
He was most recently among those honored with the PLASA 2012 Frank Stewart Volunteer of the Year Award (LDI 2012). He was a fundamental part of ESTA's E1.6 – 1 Rigging Task Group, which was recognized for developing the motorized-rigging standard. As the Task Group's leader, Harvey spent seven years on the project.
He has written three theatre technology textbooks. He received a Ph.D. in scene design criticism and a master's in theatre technology and design, both from the University of Wisconsin-Madison. He taught theatre technology, scenic design, and theatre aesthetics for over 30 years at several universities, and has been very active with USITT.
Harvey and his wife, Peggy, will continue to reside in Waunakee, Wisconsin. The couple celebrated his retirement with an Asian cruise.
Katz Named Technical Director
Congratulations to Michael Katz who has recently been named technical director of the University of Massachusetts-Boston. Known for his thought-provoking T-shirts at every USITT Annual Conference & Stage Expo, he will join the Board of Directors for a three-year term starting in July.
Mic Performs Swimmingly in Rain
In November, Vinny Osborne was on deadline, preparing for Singin' in the Rain to be performed by the Port Laois Musical Society in Ireland. He needed for an earset microphone which could better handle water immersion as well as deliver impeccable audio quality. The celebrated sound designer chose Point Source Audio's CO-5w waterproof microphone for his lead actor. Launched by Point Source Audio in April, the CO-5w is the waterproof version of PSA'S CO-5 omnidirectional earset microphone.
Video, Photos Highlight Brockman Exhibit Opening
We appreciate Brain Bjorklund sharing his photos of the opening of C. Lance Brockman's exhibit at the University of Minnesota – Minneapolis.
There is also a great video with Lance and others talking about the work on display. The exhibit runs through March 15, leaving Lance just enough time to wrap it up before heading for the 2013 Annual Conference & Stage Expo in "nearby" Milwaukee.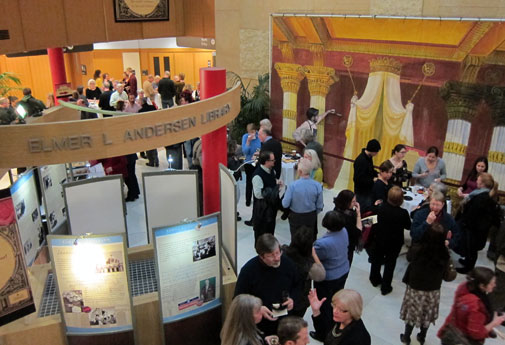 Techni-Lux Announces New Distributorship with Mighty Bright
Techni-Lux Inc of Orlando, Florida, has partnered with Mighty Bright, a leading manufacturer of personal LED clip-on and task lights, for the specialty, entertainment, and music industries. Mighty Bright products, including the popular Orchestra Light and Duet LED Music Light, are now available from Techni-Lux.
For additional information, contact Techni-Lux at 407-857-8770, or visit www.techni-lux.com