News From Lea Asbell-Swanger, USITT President
Institute Focused on Learning, Not Academia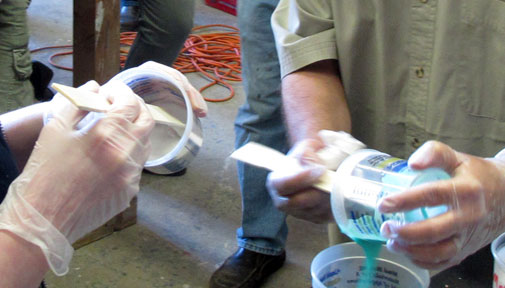 Here we are, just a couple of weeks away from the 53rd Annual Conference & Stage Expo! One of the things that I enjoy receiving is a weekly update on Conference registrations. The most recent one that I was sent shows our registration numbers to be ahead of the pace of the last four conferences. We've had to increase the hotel nights in our blocks, even adding another hotel to the mix. This is a great problem to have! It seems that all kinds of people are finding value in what we offer at the Conference, yet there are still misconceptions about what USITT is.
One of the most prevalent assertions is that USITT is for students and academic institutions, and if you are not affiliated with either of these profiles, there's not much benefit to a USITT membership. Despite surveys that allow members to self-identify and that show our membership to be much more diverse, the perception persists.
Now, don't get me wrong. I have great respect and appreciation for all those who do fall within the definition of student, professor, teacher, school, or university. There is no question that those individuals and organizations provide incredible volunteer and financial support to USITT. More importantly, they will not let us forget the importance of training and education. From my vantage point, they are the spark that reminds us that learning is a lifetime pursuit.
I work at an organization that is affiliated with a university, but I am not involved in academic pursuits in any typical sense. Furthermore, I did not become involved with USITT until I had left my official student status behind and started full-time work. I consider myself very lucky to have had executive leadership at that time who valued and encouraged professional development of all staff, budgeted for it adequately, and expected results that benefited the organization. Therein, perhaps, lies a key to how we might add to the value and importance USITT has to offer.
In the last few months as President, I have been mindful of the proposed projects, awards, and activities that center on students. Interestingly, it's not just academically oriented people or places that have this tendency; it's everyone. What this seems to say is that the aforementioned perception about USITT is strong, but it doesn't mean we can't expand the definition of who we are. We just have to make a strategic effort to broaden the focus of proposals that come our way. Furthermore, each of us, especially those who work outside of academia – and many of us do both – have an added responsibility to share the opportunities for life-long learning that USITT provides.
Another bonus of the generational mix of USITT is the realization that learning does not stop at a certain age and the ability to teach and train doesn't magically begin at one either. Within the fast-moving technology that serves the arts and entertainment industry, we have to accept that those who have only known the business with certain technologies in place instinctively understand different and new ways to apply those technologies the rest of us haven't considered.
For those who will attend the Conference, please consider that every other attendee has knowledge to share. Ask questions across generational lines – in both directions – and listen carefully to the answers. Learn about the new products on display even if you believe you'll never have the opportunity to use them; you never know what opportunity is just around the corner. Most importantly, take the knowledge and information you find at the Conference home and share it with someone that didn't attend so they know that they should have.