In Memoriam:
Jack Mann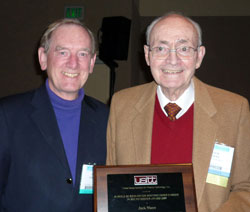 Jack Mann, widely known as the first person to receive a Broadway credit as sound designer, died January 28 at age 89. His wife of 70 years, Jean, died just two months earlier.
Mr. Mann was a theatrical sound pioneer who received the USITT Distinguished Achievement Award in Sound in 2009. A Michigan native, he got his first job as a theatre electrician at 18, then went off to serve in World War II. After the war, he came home to work in theatres for eight years before moving to New York City.
He soon gained a reputation for creative sound techniques and, in 1961, earned the first sound designer credit on Broadway for Show Girl, a musical comedy revue that ran for 100 performances at the Eugene O'Neill Theatre. He worked on Broadway for 27 years with such artists as George Abbott, Leonard Bernstein, Harold Prince, and Stephen Sondheim.
His many Broadway credits include productions of A Little Night Music (1973-74), Sweeney Todd (1979-80), The Tap Dance Kid (1983-85), and Into the Light (1986). He retired to his home in Port Republic, New Jersey, where he and Jean were known as "Gram and Gramp."
In 2009, at age 85, Mann was honored at USITT's Annual Conference & Stage Expo in Cincinnati, receiving his Distinguished Achievement Award from David Collison, author of The Sound of Theatre, who traveled from Britain for the occasion.
Jean Mann died after a brief illness on December 4 at age 90. Her husband followed peacefully seven and a half weeks later. He is survived by his son, Brian Mann, four grandchildren, and five great-grandsons. Friends may sign a guestbook here.