News & Notices
USITT Names Neil Mazzella of Hudson Scenic Distinguished Achiever
Broadway Technical Director Neil A. Mazzella of Hudson Scenic Studios in Yonkers, New York, will receive USITT's 2013 Distinguished Achievement Award in Technical Production.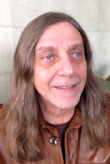 The award will be presented to Mr. Mazzella in a special ceremony at USITT's 2013 Annual Conference & Stage Expo March 20 to 23 in Milwaukee, Wisconsin. It recognizes his "profound contribution to professional theatre by enhancing the relationship of theatre craft to theatre art."
Mr. Mazzella is CEO of Hudson Scenic Studio, Hudson Sound & Light, and Hudson Theatrical Associates. He has been technical supervisor for over 40 Broadway productions, including All About Me with Michael Feinstein (2010) and The Caine Mutiny Court-Martial with David Schwimmer (2006).
He co-founded Hudson Scenic Studio with Gene O'Donovan in 1980, and it has become one of the most successful providers of custom scene fabrication, automation, and painted drops for the live entertainment industry. Among its best-known projects is the automation behind the New Year's Eve ball drop in Times Square.
What started as a small shop with five workers now inhabits a 125,000-square-foot complex employing over 100 craftspeople. In 2004, it opened a lighting and sound branch, Hudson Sound & Light, which has since merged with Christie Lites to provide sound and lighting equipment for Broadway shows including Gore Vidal's The Best Man, The Gershwins' Porgy & Bess, Mary Poppins, and Bonnie & Clyde.
In 2007, the Hudson family expanded again, forming Hudson Theatrical Associates in Manhattan, offering technical supervision, labor supervision, and production management for theatre, industrials, and live events. The company has provided technical supervision for such recent hits as Jesus Christ Superstar, On a Clear Day You Can See Forever, and Hugh Jackman Back on Broadway. Mr. Mazzella received the Tony Honor Award for Excellence in Theatre in 2007.
Besides overseeing three companies, Mr. Mazzella has served as chair of the Yale University School of Drama Board of Advisors from 2001 to 2012, and has taught on the faculties of Yale, Columbia University, and SUNY Purchase. He graduated from Yale School of Drama in 1978 with an MFA in technical theatre.
In a 2007 interview in Playbill, he recalled that the first Broadway show he ever saw was A Man for All Seasons, starring Paul Scofield.
"It was the early 1960s, and my mother took me," he told Playbill. "There were a series of blackouts, and when the lights came back, the set had changed. I sat there and wondered what happens onstage when the lights go out. It captivated me. It captured my imagination. And I've spent my whole life trying to figure it out."
USITT has planned an award ceremony for Neil Mazzella for Friday, March 22 from 7 to 8:30 p.m. during the 2013 Conference & Stage Expo at Milwaukee's Delta Center. That morning, he will join USITT's other Distinguished Award winners in a conversation about their lives, philosophy, and experiences.