News From
Sustaining Members
University of Minnesota – Twin Cities: University Upgrades Membership
University of Minnesota – Twin Cities has recently upgraded its membership in USITT to that of a Sustaining member.
The Institute appreciates the increased level of support that membership category provides.
Cobalt Studios Inc.: Member Helps Theme Park Nab Brass Ring
Iceploration, a multi sensory ice show performed at Busch Gardens Tampa, recently won a prestigious IAAPA Brass Ring Award. Cobalt Studios Inc. of White Lake New York painted two backdrops for this production, an Amazon rainforest and the Serengeti Plain.
The Brass Ring award acknowledges outstanding achievement for live entertainment at theme parks worldwide. Iceploration follows the story of a boy and his grandfather as they journey to the four corners of the earth. In addition to this honor, Cobalt Studios owner Rachel Keebler will receive the 2013 USITT's Special Education Citation award in Milwaukee this March.
Iceploration is currently performing at the Moroccan Theatre through summer 2013.
Rose Brand: Announce Ten Scholarship Finalists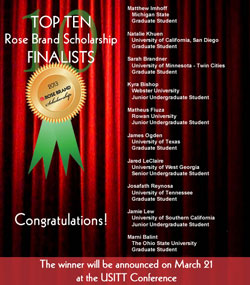 Rose Brand announced the finalists of the Rose Brand Scholarship on its Face Book Page.
They are Marni Balint, Ohio State University, graduate student; Kyra Bishop, Webster University, junior undergraduate student; Sarah Brandner, University of Minnesota – Twin Cities, graduate student; Matheus Fiuza, Rowan University, junior undergraduate student; Matthew Imhoff, Michigan State, graduate student; Natalie Khuen, University of California - San Diego, graduate student; Jared LeClaire, University of West Georgia, senior undergraduate student; Jamie Lew, University of Southern California, junior undergraduate student; James Ogden, University of Texas, graduate student; and Josafath Reynosa, University of Tennessee, graduate student.
This year's winner will be announced at the USITT 2013 Annual Conference & Stage Expo in Milwaukee, Wisconsin March 20 to 23.
The finalists will be judged by a panel of industry experts including scenic designer and Tony Award winner, Donyale Werle; the president of Scenic Art Studios, Joe Forbes; Walt Disney Imagineering designer Pete Happe; scenic and production designer and Primetime Emmy winner Joe Celli; and the owner of Tait Tower, Adam Davis. 
The Rose Brand Scholarship awards $5,000 to a student and $2,500 in Rose Brand credit to the student's school to enhance the theatre program. The scholarship is intended for students who wish to pursue a career in scenic design.
L-ACOUSTICS: L-ACOUSTICS introduces loudspeaker modules for CATT, EASE, ODEON and LARA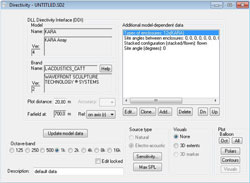 New modules are now available for third party software from L-ACOUSTICS including CATT-Acoustics, EASE, ODEON, and LARA.
Sound designers and acousticians can simulate the L-ACOUSTICS line source arrays. Each third party software can be used in parallel with SOUNDVISION to simulate additional parameters such as total sound pressure level, intelligibility and clarity factor. This development allows acousticians to input clients' requirements into L-ACOUSTICS speaker design. Visit L-ACOUSTICS'S download center.
International Alliance of Theatrical Stage Employees: Local Signs Agreement with Audio Works
On January 28, International Alliance of Theatrical Stage Employees (IATSE) Local 63 signed a collective agreement with Audio Works. The agreement covers all of the company's employees and contract technicians except those excluded by operation of Labour Relations Act of Manitoba.
Audio Works is Manitoba's premiere, full-service sound, lighting, stage, and multimedia production company and provides equipment and services across Canada.
The new agreement includes minimum four-hour calls, coffee breaks, a newly created truck driving position and a newly created crew chief position. It was ratified unanimously by the employees of Audio Works.
Nemetschek Vectorworks, Inc.: Awards Scholarship, Upgrades Cloud Offering
Gabriel Munoz Moreno received  the first Vectorworks Young Architects Student Scholarship awarded by Nemetschek Vectorworks, Inc. He will receive $2,500 toward tuition and fees for his bachelor of architecture degree.
A Boston native, Mr. Moreno spent his childhood living in several European cities including Frankfurt, Brussels, Rome, Milan, and Madrid. He is working on a thesis related to sustainable architecture at San Pablo CEU University in Spain. He spent the summer of 2010 at Harvard University's Graduate School of Design.
For additional information about The Vectorworks Young Architects Student Scholarship, visit www.vectorworks.net/scholarship.
Vectorworks has released a new version of the Vectorworks Cloud Services mobile application, Vectorworks Nomad 1.0.9, and desktop application, version 1.0.14.
Users can now access previous versions of Vectorworks files synchronized to their Vectorworks Cloud Services account, allowing them to view the history of changes and markups in each project.
Vectorworks Cloud Services is available to members of the Vectorworks Service Select subscription program. To learn more, visit www.vectorworks.net/cloudservices.
Irwin Seating Company: Redesigns Popular Seats
Irwin Seating Company recently introduced new versions of its popular Citation and Millennium models which have set the standard for durability across a wide spectrum of facilities including multi-purpose arenas, places of worship, schools, and universities.
The Citation was introduced in 1968 and was one of the first chairs to feature a plastic rear outer shell. Millions of Citation chairs are used around the world in facilities like FedEx Forum in Memphis, Tennessee, and Yankee Stadium. The Millennium was introduced in the mid '80s and has been installed in thousands of schools throughout North America in addition to facilities like the Amway Center in Orlando, Florida, and the O2 Arena in London, England.
The redesign of Citation and Millennium helps Irwin Seating Company keep costs in check. In addition to redesigned Citation and Millennium models, the company introduced the Solo Worksurface line of lecture room furniture and Integra and Solara beam mount chairs in partnership with Blue Cube, Ltd. It has reengineered its telescopic nose-mount chair mechanism which will speed up arena change-overs by allowing workers to collapse up to ten backs at once through the use of an innovative spring-assist system. For more information, visit www.irwinseating.com.
Stagecraft Institute of Las Vegas: Institute Gives, Receives at KCACTF Region 1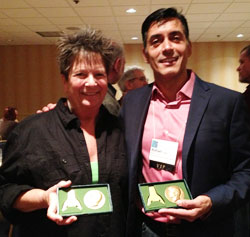 Six winners for the Stagecraft Institute of Las Vegas Student with the Most Potential Award from KCACTF Region 1 were announced recently. They are Spencer Batho, sound; Kelly Fanton, projections; Maureen Freedman, scenic; Stephanie Harrop, SF X make-up; Rachael Perry, projections; and Michael Portrie, Sound
Jane Childs, wife the late Don Childs, co-founders of SILV, chose the winners with Jesse Dreikosen, Herrick Goldman, Natalie Kearns, and Chris Velvin. Regional volunteers who made the event seamless included Luke Sutherland, Daniel Kozar, and Charlie Wittreich.
In addition, Mr. and Mrs. Childs were honored with the Kennedy Center Gold Medallion for "extraordinary contributions to the teaching and producing of theatre and having significantly dedicated their time, artistry, and enthusiasm to the development of the Kennedy Center American College Theater Festival." Recipients have demonstrated a strong commitment to the values and goals of KCACTF and to excellence in educational theatre. It is the most prestigious regional award given by KCACTF.
Mrs. Childs accepted the award and the presenter, Rafael Jaen, was another SILV friend honored with a Gold Medallion that evening.
Alcons Audio: Alcons BC332 Is The Readers Choice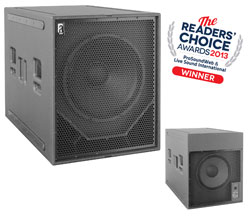 The fourth annual Live Sound International and ProSoundWeb.com Readers Choice Awards, a key signifier of the best technology in the North American professional audio market, chose Alcons Audio's BC332 high output cardioid subwoofer as one of the winners.
For more information visit: www.alconsaudio.com and www.cardioidsubwoofer.com. For more hot news, visit Facebook: www.facebook.com/AlconsAudio