News & Notices
USITT: Coast to Coast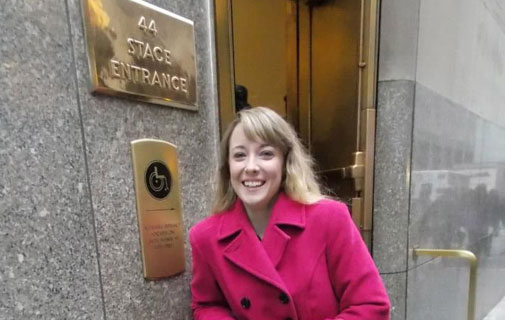 Spring break in Southern California with best friends -- awesome. Waking up at 10 a.m. to a phone call, not so much. On the other end was Tim Kelly telling me I had won the Find a Fellow Contest; we're back to awesome.
After researching all the participating Fellows, I decided to ask USITT Fellow Elynmarie Kazle if I could shadow her for a few days. Luckily for me, she accepted the challenge. We conferred with the Fellows Committee and decided to meet in New York City where Elynmarie has a great number of personal contacts.
Friday, November 30: I took an exam, drove to Columbus, and hopped on an airplane to LaGuardia. Once I arrived in NYC, I took the shuttle to meet Elynmarie at Grand Central Station. It was just like a scene in a movie. The first evening, Elynmarie and I walked around the city -- Times Square, the Village -- and I bought a MetroCard, - all things I hadn't done before. Throughout our evening, we talked about life experiences and how we dealt with difficult issues. She even helped me realize what I want to do after graduation. After such a whirlwind of adventures, I had to sleep quickly so I could wake up early to go to Radio City.
Saturday, December 1, 8:30 a.m.: I'm standing at the Radio City Music Hall stage door ready for my half hour call to shadow The Radio City Rockettes' Christmas Spectacular. Yes, I shadowed the stage management team for the Christmas Spectacular - dream come true. I followed four of the five stage managers, walked all three levels of the stage, learned the inner workings of the show and the building itself, and saw a couple of my friends who are actually performers in the show. It had been a surreal day, and it was only 10:30 a.m. Could it get any better? We met up with Pat Sosnow, stage manager of Evita. Pat gave us a mind-blowing backstage tour, then we sat in the house and chatted about her previous experiences in theatre: Thoroughly Modern Millie and How To Succeed... to name a few.
After Radio City and Evita, we headed over to The Actor's Studio. Courtesy of Deborah Dixon, executive director, I had the opportunity to walk the halls and rehearsal spaces that many actors and actresses had walked before me. They also have an awesome black box space that actors can reserve to perform their projects. The most incredible moment was standing in Lee Strasberg's office. Here I was, a college senior in 2012, standing in Lee Strasberg's office -- astonishing!
Radio City, Evita, and The Actor's Studio; now it's 1 p.m., and we were only halfway through. We grabbed a quick slice of pizza then headed over to the Music Box to see Dead Accounts starring Norbert Leo Butz and Katie Holmes. As soon as the show was over, Elynmarie and I waited at the stage door to get autographs with the cast; can you believe I had never done that before? When we had the full cast's autographs (except Mr. Butz; he wasn't leaving the theatre between shows), we walked over to The Drama Book Store and browsed while waiting for a friend.
Elynmarie contacted a former student whom she worked with when she ran Weathervane Playhouse in Akron, Ohio. Derric Nolte, now a graduate of lighting design from Cincinnati Conservatory of Music, moved to New York in 2012 and has been working as a PA and stage manager. We met up at Starbucks. Which one? I don't know. As Elynmarie says, "Don't ever tell someone you'll meet them at a Starbucks. They're on every corner, and you'll always go to the wrong one." Anyway, we had a great time chatting about how Derric moved to the City after graduating college and hasn't stopped working since. That never happens, so he gave me helpful pointers on how to make that happen for me, too. Somehow we got on the topic of Elynmarie and me going to see Bring it On: The Musical later, and Derric mentioned that he knew the stage manager, Ryan Bell. He asked if we could get a tour. Luckily for us, Ryan agreed!
8 p.m.: At the end of a wonderful, long day in the City, we were sitting in our box seats for Bring It On. When the theatre finally cleared at the end of the performance, we went backstage to meet Ryan. I learned about the customized sprung floor, the road boxes from the tour that they still use; everything. After about an hour of chatting backstage, we left the theatre to meet up with my friend Kris Valentine, stage manager for Forever Dusty Off-Broadway. Elynmarie, Kris, her fiancé Eric, and I ended up staying out sharing life stories until 2 a.m.
Shadowing The Radio City Rockettes' Christmas Spectacular; tours of Evita, The Actor's Studio, and Bring It On: The Musical; meeting up with old friends; making new --  best experience ever. I never would have thought that attending the USITT Annual Conference & Stage Expo in Long Beach would lead me clear across the country and to where I am today. I now have contacts for all the people I met in those two days, and a newfound love for New York City. It was an amazing experience that I never would have had without the help of the USITT Find a Fellow project. Thank you to everyone who helped make this possible and to those who have encouraged me along the way.
To read Elynmarie Kazle's impressions of the experience, click here.