News & Notices
Mentoring Session Prize for Finding Fellows
Elynmarie Kazle, Fellow and founder of the USITT Stage Management Mentoring Program planned the mentoring trip for Kristin Sutter, one winner of the 2012 Find a Fellow contest. Here is her report. Kristin's impressions will appear in the March issue of Sightlines.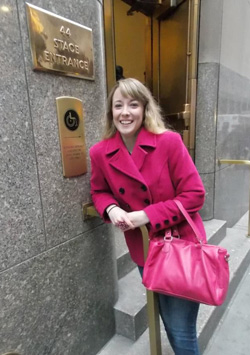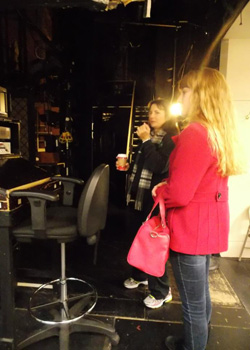 I was pleased to have been selected by Find a Fellow Contest winner Kristin Sutter to plan a mentoring experience for her in New York City. I wanted to give her an experience similar to one that I found so valuable years ago.
One of my favorite training experiences was shadowing Andrew Feigin and the stage managers at Radio City Music Hall during The Christmas Spectacular. With Andy's help, Kristen was able to do the same with the current stage management team. My friend, Paul King from Lincoln Center, helped set up a meeting for us with Broadway stage manager, Pat Sosnow, and a backstage tour of Evita. Pat told us her team usually moves from show to show, but that she sometimes hires on production assistants and assistant stage managers as per new union rules. She told Kristin, "You usually need to learn the paperwork style of the team, but how you work with others and handle yourself is the primary reason you may get hired, then re-hired."
We met with the assistant technical director at the historic Actors Studio. Emily is a recent University of Georgia graduate and has had a number of challenging stage management jobs on small shows all over NYC. We again talked training and how to get those first jobs.
We met with Derric Nolte -- a graduate of Cincinnati Conservatory of Music with whom I had worked when he was in high school. Derric has been in the city six months and has been working, shadowing, and/or volunteering ever since. Derric attributes his success to the power of networking – a tool he demonstrated by setting up a meet-and-greet with his friend, Ryan Bell, the youngest PSM currently on Broadway.
Ryan invited us to meet backstage after we saw Bring It On. Ryan was candid about what it took to get and keep work in NYC stressing the importance of demonstrating good working ethics to potential employers – everyone. He and Kristin looked at the production book and talked about how the team calls the show.
Kristin demonstrated some networking skills of her own when we met with her friend, Val, who is working on a new show on Theatre Row. Val seems genuinely interested in working with Kristin in the future.
Kristin and I learned that there are still many levels of production work in New York and, if you really want to work there, with ability and gumption, you will. New Actors Equity Association rules have opened up opportunities for early career stage managers who need that first job on a big show to get in the door.