News From
Sustaining Members
Studio Gear: Welcomes Sustaining Member
USITT welcomes Studio Gear as a new Sustaining member and as an exhibitor at Stage Expo in 2013.
Studio Gear is an audio, video, and light equipment company which provides sales, rentals, and installations from its base in Milwaukee, Wisconsin. The company is also hosting a USITT Presents session on Hog 4 training at its facility March 18 and 19.
To learn more, visit www.studiogear.net or stop in to see them at Stage Expo.
Full Compass Systems, Ltd.: Joins as Sustaining Member
USITT also welcomes Full Compass Systems, Ltd. as a new Sustaining member. Full Compass provides professional lighting, audio, video, and AV gear and accessories from a broad range of companies.
To see what it has to offer, visit www.fullcompass.com or call 800-356-5844 where assistance in Spanish is also available. Full Compass will be at NAMM before exhibiting at Stage Expo 2013 in Milwaukee.
TMB: System Helps Light Up Brisbane
To celebrate Australia's annual 30-night Brisbane Festival last fall, 3,000 square meters of brilliant lighting, visible for over 10 kilometers, lit up downtown Brisbane's business district. Sponsored by Santos GLNG City of Lights and designed by John Rayment, the festival's spectacular lighting was provided and installed by Chameleon Touring Systems of Sydney and Brisbane. TMB is the exclusive distributor in North America and the United Kingdom for the LumenRadio system used to control the lights.
For more information, visit www.tmb.com/lumenradio. Learn about other products from TMB at www.tmb.com.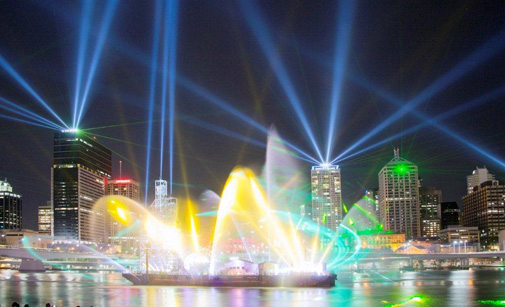 Sapsis Rigging: Goodman Theatre Seeks Safety Help, Firm Opens Wisconsin Office
Improving safety conditions for technical staff members has always been a primary goal at the Goodman Theatre in Chicago. When timing and budgets came together after the annual production of A Christmas Carol opened in November, it was time to call for lifelines—and they called Sapsis Rigging, Inc.
Sapsis installed fall arrest equipment in both performance spaces at the Goodman: the 856-seat Albert Ivar Goodman Theatre's proscenium stage and the flexible, thrust-style stage in the 450-seat Owen Bruner Goodman Theatre.
Sapsis Rigging recently opened a satellite office in Bowler, Wisconsin, placing one of the company's top hoist technicians, Billy Williams, in the Midwest to serve the needs of schools, theatres, performing arts centers, arenas, special events, and other venues. Mr. Williams will schedule and perform safety inspections, rigging installations, and hoist inspections and re-certifications for customers.
To reach the Wisconsin office, contact Mr. Williams at bwilliams@sapsis-rigging.com or call 215-292-1248. More information on Sapsis Rigging is available at www.sapsis-rigging.com .
L-ACOUSTICS: Offer Online Acoustics Videos
Two L-ACOUSTICS videos are now available online: "ARCS Wide and ARCS Focus" and "Constant Curvature Line Sources."
Both  videos are available on the website, on the L-ACOUSTICS YouTube channel, and the L-ACOUSTICS Facebook page, Video 1 and Video 2.
Stagecraft Institute of Las Vegas: Institute Adds International Perspective
Uzma Sabeen, from The National Academy of Performing Arts of Pakistan (NAPA) , first came to Stagecraft Institute of Las Vegas (SILV)  in 2010 as a fellowship participant in an International Cultural Exchange Visitor Program for Theatrical Designers. She will re-join SILV this summer for the four-week Lighting Focus segment.
Ms. Sabeen has a master's degree in English Literature and a three-year diploma in theatre arts from NAPA as a student in its first class.
As one of few people in Pakistan who have the proper training in this discipline, she was appointed as  coordinator/ faculty member, has designed and documented the curriculum of the academy, and has shared her contributions in the repertory theatre as a lighting designer, costume designer, stage manager, and director.
Alcons Audio USA: Hits New Peak with Nepalese Audio System
Cinema owners in more and more countries across the globe are investing in Alcons Audio systems. The company recently broke new territory with the installation of systems in Nepal.
QFX Civil Mall, the country's largest shopping area located in the Sundhara district of Kathmandu, houses a new, three-screen multiplex cinema capable of seating up to 939 viewers. This is Nepal's first truly world-class Cineplex and is one of a trio of cinemas owned by QFX in the city.
Installed by Indian audio company Balaji Sound, the Alcons systems feature CR2 and CR4 systems, CB362 subwoofers, CCS8 high-power surround speakers (all specifically designed for the cinema market), and ALC2-ST amplifier-controllers.
For more information visit: www.alconsaudio.com or www.qfxcinemas.com.