Conference & Stage Expo
A Diversity of Performance Venues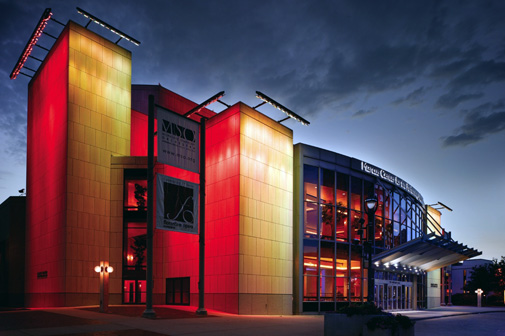 Milwaukee has a vibrant performing arts scene that uses spaces as varied as a church basement black box space and a 4,000 seat theatre. The following selected venues are all within walking distance of the Delta Center. Information for a walking tour of these venues will be posted soon.
The Pabst Theater is considered the crown jewel among Milwaukee's historic performance spaces. Opened in 1895, this 1,200 seat theatre is breathtaking. Fashioned after the gilded opera halls of Europe, the Pabst continues as an active venue featuring everything from classical to rock to comedy, and is home to the Milwaukee Rep's annual production of A Christmas Carol.
Turner Hall was built as a 7,000 square foot ballroom for use by a German fraternal organization. After being unused for over 70 years after being damaged by a fire, this venue was restored and now hosts mainly concerts on the original raked stage.
The Riverside Theater opened in 1928 as a Vaudeville house and film palace. After changing hands numerous times, this 2,500 seat theatre was updated and is currently used as a concert venue.
The Marcus Center for the Performing Arts opened in 1969 and contains three performance spaces.  Uihlein Hall is the largest venue with 2,200 seats.  Uihlein is home to the local symphony, opera, and ballet companies, and is the premier roadhouse for Broadway tours.  Todd Wehr Theater, a 500-seat venue, is home to First Stage Children's Theater Company. Vogel Hall was built as a 400-seat recital hall that has been adapted to host smaller theatrical productions, both locally produced and tours.
The Patty and Jay Baker Theater Complex was converted in 1987 from an electric power generating plant to the home of the Milwaukee Repertory Theater. There are three performance spaces plus the construction shops, rehearsal studios, and management offices for the Rep all under one roof.
The Broadway Arts Center in the historic Third Ward is home to the Skylight Music Theatre, Milwaukee Chamber Theatre, and Renaissance Theaterworks. There are two performance spaces located in the complex: the 388 seat Cabot Theater and a 99-seat black box space. This complex was built for the Skylight Music Theater in 1994.
The Milwaukee Theater opened in 2003 as a 4,000-seat venue. This theatre was built inside the old Milwaukee Auditorium, circa 1909. A new stage house with dressing rooms was constructed where the original stage was. The tiered seating was built inside of the original arched wrap around seating area. The theater hosts Broadway tours, concerts, and industrial shows.
The Milwaukee Youth Arts Center is home to The Milwaukee Youth Symphony Orchestra and First Stage Children's Theater. This facility, opened in 2005, has been a national model for cooperative use of an arts complex by multiple art organizations. The building contains administrative offices, classrooms, rehearsal and performance spaces, and a costume shop.
Home to In Tandem Theater, the 10th Street Theater is located in the lower level of Calvary Presbyterian Church. What was once the parish hall is now a black box theater that boasts a lobby with an art gallery and fireplace.