In Memoriam:
K.C. Hooper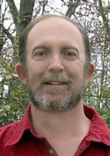 K.C. Hooper, a lighting designer and product specialist at Apollo Design Technology, died December 12 after a two-year battle with cancer.
K.C., known as "Hoop" to his many friends and fans in the industry, spent 22 years as technical and lighting director at Arizona State University before moving on to Rosco Labs and then Apollo. He was an artist specializing in dance lighting, an inventor of projection products, and a popular presenter at USITT's Annual Conference & Stage Expo.
His second love, after his family, was his field. He loved teaching and led a workshop on scenery projection at last year's event in Long Beach. He also moderated a panel on "Seeing in Color! Finding Your Way through Wonderland" at the Charlotte 2011 Conference & Stage Expo, despite ongoing treatment involving several rounds of surgery and chemotherapy.
He was known for a kind, generous nature and hilarious sense of humor, which animated his interactions and his postings on the Apollo blog, including a review of his favorite hamburger haunts. After his diagnosis in August 2010, he created his own blog – the Hoop Update – which chronicled the battle of a brave, funny husband and father battling colon and liver cancer.
"Hoop" is survived by his wife, Jody, and three teenaged sons, Kaulin, Kaunder, and Kaury. Funeral services were held December 14 at Berkowitz-Kumin-Bookatz Memorial Chapel in Cleveland Heights, Ohio. Friends may sign the family's guestbook here.