News & Notices
USITT PQ USA '11 Exhibit in New York, Available to Tour

A USITT-sponsored exhibit created to highlight the design talents of performance industry professionals as well as address social issues was a hit in New York in December. The exhibit is available to tour to small and university galleries.
From the Edge: Performance Design in the Divided States of America opened at La MaMa ETC's La Galleria in New York City on December 6.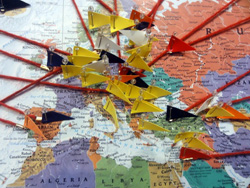 The exhibit is a gallery style re-imagining of the display and structure created for the Prague Quadrennial 2011. Artistic Director Susan Tsu arranged the contents to feature photographs of the 37 politically compelling productions in the exhibit, the tribute to notable founders of the alternative theatre movement, Pat Oleszko's inflatables, and a scale model of the garage-style structure that housed the original version.
Images from the exhibits of 27 other countries and activities of the PQ'11 illuminated the larger context of the international event. Randy Gener arranged for the exhibit to appear at La Galleria. A few of those attending the opening were La Mama Managing Director Mary Fulham and some of the designers and directors whose work was represented in the exhibit: Gabriel Berry, Ping Chong and associates, Larry Goldhuber and Liz Prince, Andrea Lauer, Brian Sidney Bembridge, Anna Kiraly, and Pat Oleszko. Bob Perdziola, from the Tobin Theatre Arts Fund; Ellen Lampert-Greaux, conference director for LDI; and Vicki Abrash, from TCG, also joined in the festivities.
Even though the original exhibition was much larger, this smaller, abbreviated version continues to tell a story of developments in American design for performance.
Alexandra Bonds, Commissioner and leader of USITT PQ USA exhibits since 2003, dedicated her opening talk to the history of USITT PQ USA exhibits and the importance of Prague Quadrennial international competition providing each participating nation the opportunity to share the best and most innovative works in design for performance. She has dedicated 12 years to developing the International Activities of USITT and, together with Susan Tsu, promoted U.S. involvement in Prague.