News From
Around the Institute
Officers, Archives Committee Visits
The USITT National Office was bursting at the seams early in January when we were delighted to welcome President Lea Asbell-Swanger and Secretary Sherry Wagner-Henry for several days of meetings and information exchanges.
Overlapping that visit, Archivist Rick Stephens was sorting and filing with the able assistance of Archive Committee members Richard Arnold and Bill Browning. The Institute's history is in capable hands, and having them on-site let staff members pose several questions about activities in the 1990s and earlier.
Sign Up for Rockwell Tour Now
A special tour of the Rockwell Automation facility is planned during the 2013 Annual Conference & Expo, but those who wish to participate must be pre-registered to attend this tour. On-site registrations will not be available.
Rockwell Automation Allen-Bradley is one of the largest manufacturers of industrial automation controls and equipment in the world. The event will include an overview presentation; tour of its high voltage testing lab, reliability lab, advance tech lab, and  chem lab; and a history and tour of the famous clock tower. A picture I.D. is required to be admitted. USITT will provide bus transportation to and from the convention center. There is a maximum limit of 50 attendees. The bus will leave the convention center promptly at 1 p.m. Wednesday, March 20 and return at 4:15 p.m.
To sign up to attend this tour, e-mail name, address, e-mail address, and phone number to monica@usitt.org.
Conference Planners Visit Milwaukee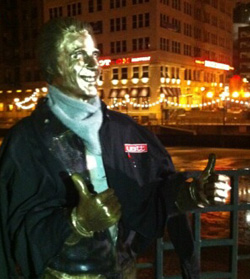 Wisconsin in January? The weather was perfect and the city was sparkling during a recent visit by USITT's Conference Committee meeting in Milwaukee. Two days of meetings were held to get all the details in place for the growing throng who will be enjoying the 2013 Annual Conference.
Sampling the local cuisine, from Serbian, to Cuban, to Italian, to a tapas joint is always a big part of the agenda, so ask for recommendations from a recent visitor, or check out David Krajec's views.
After a long day of meetings, and a refreshment or two, the group found the statue of The Fonz from Happy Days (set in Milwaukee) and discovered that he also was preparing for USITT's upcoming visit.
How Do You Say 'Manitowoc'?
In anticipation the number of visitors who will visit the Badger State for the Milwaukee 2013 Annual Conference & Stage Expo, the professional speakers and residents have put together a special guide to pronunciation for all those oddly-constructed place names. Try it to see where you will be visiting.
We thank Kathleen Donnelly for finding and sharing the link.
Brockman Curates Exhibit
C. Lance Brockman -- a Fellow of USITT, professor at the University of Minnesota, and expert on theatres of fraternities -- is guest curator of an exhibition at the Elmer L. Andersen Library on the UMN campus. The exhibit, Creating the World for the Stage 1893-1929, is on display through March 15.
Mr. Brockman was also honored at a reception and program celebrating his leadership, scholarship, teaching, and artistry in the area of scenic design.
A description of the exhibition notes "Before movies and television, American audiences filled theatres and vaudeville stages to escape the monotony of everyday life. This exhibit from the Performing Arts Archives explores the exotic worlds created by the scenic artists for both public theatres and private fraternal spaces of the Freemasons. Guest curated by Professor Lance Brockman."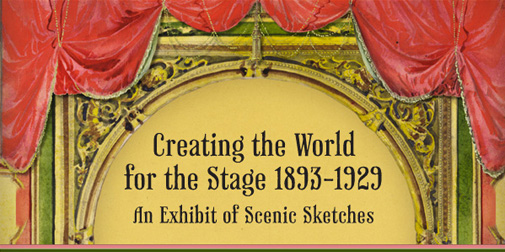 Blomquist Earns Lighting Certification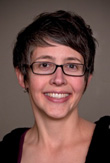 Holly Blomquist, who received the 2007 USITT Award for Lighting Design sponsored by Barbizon Lighting Company, recently completed the lighting certification (LC) examination established by the National Council on Qualifications for the Lighting Professionals (NCQLP).
Ms. Blomquist's lighting design work has been recognized at both the local and national level. In 2011, she received an Illumination Award of Merit from the Illuminating Engineering Society of North America for her design of the Pabst Brewery Block 4 Parking Structure in Milwaukee. That project, awarded for unique solutions in energy efficient lighting design, also attained LEED Gold Certification. Additional signature lighting assignments include the recently completed Zimmerman Architectural Studios headquarters in Milwaukee's Menomonee Valley.
Ms. Blomquist works with Harwood Engineering Consultants, a full scope facilities engineering firm headquartered in Milwaukee, Wisconsin.
News from OISTAT
In 2012 OISTAT marked the milestone of its first official meeting in Africa. The EC Cairo meeting and its side programs strengthened the connection between OISTAT and Egyptian theatre professionals. The Cyprus EC/GB meeting included a brainstorming session that invoked thoughts and opinions on the future development of OISTAT. Ian Evans was elected Education Commission Chair and Tim Foster was elected Architecture Commission Chair. Two commissions changed their names: the former Scenography Commission is now Performance Design and the former History & Theory Commission is now Research. After eight years of serving OISTAT, Wei-Wen Chang left the position of Executive Director, and Kathy Hong took up the duties as OISTAT Executive Director.
OISTAT's new website is now online. The OISTAT World Congress and OISTAT President and Executive Committee elections will be held during World Stage Design 2013 in Cardiff, Wales. Meanwhile, all intents and proposals for the WSD2017 designation are sought.
USITT is the United States Centre for OISTAT.
Completes Bing Concert Hall Project
Western Theatrical, the California operating company of 20/20 Theatrical, a member of USITT, has just completed an 18-month project at Stanford University. Working under contract for J.R. Clancy, Western tackled a complicated installation at the 844-seat cutting-edge Bing Concert Hall, including multi-hoist rigging for lighting positions, acoustical panels and curtains, and a large speaker cluster that disappears through "bomb-bay" doors into the ceiling when not in use.
Because the project is located in the seismic (earthquake) zone, more than 80 pieces of supplemental steel bracing had to be precisely installed before the equipment installation could begin – much of it to accommodate the large, specialized hoists required.
The Bing Concert Hall opened in January. It was the third major project 20/20 and Western have undertaken for J.R. Clancy.
Great Lakes Featured in 2013 Charity Ride Route
The 10th annual Long Reach Long Riders charity motorcycle ride will cruise through the rolling landscapes, deep forests, and huge water of the upper Midwest for the 2013 version of the LRLR ride, dubbed "10 Great Years, Five Great Lakes."
The riders will gather in Cleveland on June 28 and head out early the next morning for a counter-clockwise tour of Lakes Erie, Michigan, Superior, Huron, and Ontario before returning to Cleveland eight days later. They will visit 4,000-year-old sand dunes, stunning shorelines, waterfalls, islands, and more. They¹ll also learn the difference between "yoopers" and "trolls." U.S. riders will need passports for the two-day excursion into Canada, and a couple of scenic ferry rides are included by popular demand.
Riders raise funds for Behind the Scenes, which provides financial support to entertainment technology professionals when they are ill or injured; and for Broadway Cares/Equity Fights AIDS, the nation's leading industry-based HIV/AIDS fundraising and grant-making organization.
For more information, visit lrlr.org
Waterproof Mic Gives Outstanding Performance
Last November, Vinny Osborne was on deadline, preparing for Singin' in the Rain to be performed by the Port Laois Musical Society in Ireland. He had a special need for an earset microphone which could better handle water immersion as well as deliver impeccable audio quality. The celebrated Irish sound designer—who has been nominated 11 times (winning seven) for Best Technical Award by the Association of Irish Musical Societies—got to work. He did his research, performed rigorous testing, and chose Point Source Audio's CO-5w waterproof microphone for his lead actor.

"Singin' in the Rain performed for packed houses, and the CO-5w earset never let us down," Mr. Osborne said. "There were three major downpours during the two-and-one-half hour show."