News & Notices
Board Mentorship Program to Launch in 2013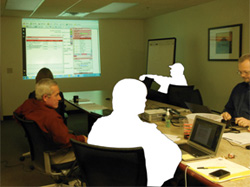 USITT has created a board training program for university students and early career professionals. The USITT Board Mentorship Program will emphasize developing board leadership skills particularly for membership organizations and/or arts and culture organizations. This program has been developed to bring national focus to and build expertise around volunteer leadership skills for emerging professionals serving on non-profit boards.
"Nonprofits, such as art and culture organizations, are launching in this country at a staggering rate, creating high demand for seasoned professionals who can lend time and talent toward the organizations' sustained operation," said Sherry Wagner-Henry, Institute Secretary and co-chair of an ad-hoc committee to study the opportunity and involvement for USITT and its members. "A new generation of young professionals needs to be introduced to the concept and application of service in the form of volunteer leadership with these organizations in order to perpetuate and grow healthy, mission-based endeavors.
USITT sees itself as being positioned ideally in the sector to create and sustain a successful, hands-on learning and training opportunity for the next generation of volunteer leaders."
Much discussion about the goal of the initiative centered on a comparison to USITT's SMMP (Stage Management Mentorship Program) as an intensive, applied learning experience complemented with additional, year-round engagement and learning. The Board Mentorship Program's objective is primarily educational but can serve to recruit USITT membership across areas of specialization with a general focus on building leadership and management skills.
A test pilot program, created this fall, along with the presidential appointment of a seven-member committee, included the input and participation of two current graduate students in arts administration. The committee is using the current student involvement and feedback to help determine the formal application criteria, create guidelines for participation, and gain insight on other key areas of development as they shape the program for official launch this summer.
Applications for student and early career involvement will be available on the USITT website beginning February 1. To read the guidelines or to access the online application form, visit the website at usitt.org.