Conference & Stage Expo
Reviewing Costume Portfolios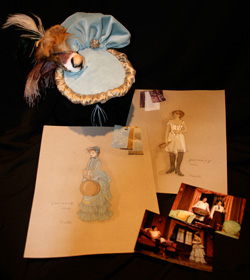 Each March at the USITT  Annual Conference, the Costume Design and Technology Commission hosts several days of portfolio reviews. Students and professionals alike benefit from the feedback and encouragement they receive from costume design and technology practitioners. Reviewers are treated to a look at the work of up-and-coming artists, and have the opportunity to offer feedback and support in a power-neutral environment.
In the world of theatre, the first language we speak as artists is visual. The portfolio may be the single most important marketing tool a designer or technician has. It can be the best representation of your talents and qualifications. Recognizing that the portfolio is also a fluid record of your achievements and strengths, preparing for the review is a great time to clarify your thinking about your work and to reflect on how to improve its impact. It's fair to say, then, that your portfolio deserves a considerable amount of attention. If organizing your portfolio seems like too daunting a task, there are numerous "how-to" guides available with Show Case (2012) by Rafael Jaen among the very best, most comprehensive, and user-friendly of them.
Through the Commission, every person who applies for a review will present their work to two professionals who will offer advice on format, content, sequencing, page layout and content. Each reviewer will have designed and re-designed their own portfolio, and will share their knowledge of tips and tricks that have won jobs, and the faux pas that have cost them opportunities. The reviewers help applicants learn best practices, improve presentation skills, and gain the confidence exposure to a wider audience brings.
As an applicant, the guidance you receive will likely resonate with your own perception in a variety of ways, depending on where you are in your career, what your goals are, and the process by which you arrived at the projects on display. Your portfolio should reflect the unique personality you bring to your work; getting feedback will help ensure it does so as effectively as possible.
Professionals looking for an opportunity to serve should consider volunteering to conduct reviews. Your service will be much appreciated. It does not take a lot of time, and anyone new to the process will be teamed with a colleague who has previously done reviews for the Commission.
With the number of student members in the Commission multiplying rapidly, portfolio reviews are one more way the Costume Design & Technology Commission is working to address the interests of all of its members. Review slots fill up fast, so respond quickly when sign-ups are posted.
For more information, or to sign up as a reviewer contact portfolio review director Steven Stines at stevenstines@gmail.com.