Conference & Stage Expo
Smooth Sailing to Milwaukee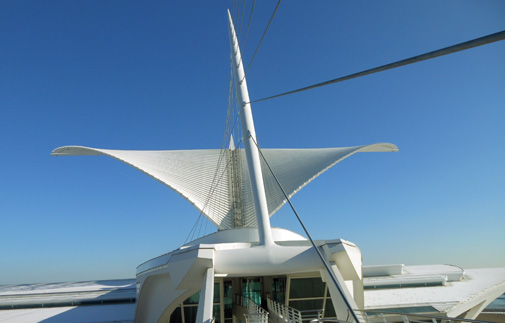 Landing in Milwaukee is a beautiful experience. The vast lake stretches out beneath the plane. Far off in the distance, Chicago is visible, letting us know exactly how small a world we live in. Stepping off the plane, we are ready to conduct USITT business and finalize the plans for the 2013 Annual Conference & Stage Expo.
The Conference & Stage Expo is just nine weeks away at the newly renamed Delta Center. The Conference Committee reunited to solidify room locations, special event plans, and schedules, and begin to talk about 2014. This year's Conference is expansive, over-flowing into the two adjacent hotel facilities for meetings and receptions.
Equally as robust is the Stage Expo. The floor has grown 30 percent and features new organizations and some companies returning as long-time friends. Companies like Graftobian, Genie, iWeiss, and RCF are joined by many long-time supporting companies like Electronic Theatre Controls (ETC), BMI Supply, Ben Nye, and James Thomas Engineering. Stage Expo is truly the only location to find all the products and services to create a complete production experience.
Make sure to visit the special exhibit and new Innovation Gallery & Stage while at the show. This year features the return of Tech Expo, the Cover the Walls exhibit, the Rose Brand Design Challenge, seven special exhibits from various facets of the industry, and many more exciting events at the USITT Booth & Marketplace.
Join us March 20 to 23 in Milwaukee to learn about the newest innovations in your discipline, network with colleagues from around the world, and check out the newest products and services on the Stage Expo floor!
USITT Stage Expo Exhibitors as of January 17

1602 Group TiMax
A.C. Lighting Inc.
A.C.T Lighting, Inc.
Act 85
Adaptive Technologies
Alcons Audio
Altman Lighting, Inc.
American Harlequin Corporation
Apollo Design Technology, Inc.
Arts University College at Bournemouth
Ascension
Automatic Devices Company
Bad Dog Tools
Barbizon Lighting Company
Ben Nye Makeup
BMI Supply
Boston University
Broadway Green Alliance
California Institute of the Arts
California State University Fullerton Theatre & Dance Department
Carnegie Mellon University
Chainmaster Buhnentechnik GmbH
Chauvet Lighting
Chicago Spotlight
Cirque du Soleil
City Theatrical, Inc.
Clark Transfer, Inc.
Clear-Com Communication Systems
Clearwing Productions
Cobalt Studios
Columbia College Chicago
Columbus McKinnon Corp.
Conductix-Wampfler
coolux International
Costume Inventory Resources
Creative Handbook
Creative Stage Lighting
d&b audiotechnik
Daktronics
Dazian/ Dreamworld Backdrops by Dazian
DePaul University
DesignLab
Disney Parks Creative Entertainment
Dragon & Phoenix Software
Duck's Echo Sound
Eartec Co.
Ecoglo Inc
Electronic Theatre Controls (ETC)
EmptySpace Technology
ESL Power Systems, Inc.
Eugene O'Neill Theater Center
Florida State University
Focal Press
Foy Inventerprises, Inc.
Frends Beauty Supply
Full Compass Systems
Future Light
GALA Systems, Inc.
GAMPRODUCTS, INC.
Genie
Gerriets International
Gleason Reel Corp.
Glimmerglass Festival
Graftobian Make-Up Company
Gravitec Systems
H & H Specialties Inc.
IALD
IATSE Local 1
Illinois State University
InterAmerica Stage, Inc.
International Alliance of Theatrical Stage Employees
Irwin Seating Company
iWeiss Theatrical Solutions
J.R. Clancy, Inc.
James Thomas Engineering
KC/ACTF
Kenmark, Inc.
Kryolan Corporation
Le Mark Group - Dirty Rigger
LEE Filters
Lex Products Corp.
Limelight Productions, Inc.
Lindenwood University
Live Design Magazine/LDI Show
Lonseal
Lycian Stage Lighting
Mainstage Theatrical Supply, Inc.
MDG Fog Generators
Mehron, Inc.
Meyer Sound Laboratories, Inc.
MG Tour Company
Minnesota State University Mankota
Montclair State University
MRD
Nebraska Theatre Caravan
Necessity's Inventions
NETworks Presentations
Norcostco, Inc.
Northern Illinois University

Northern Sound & Light, Inc
Ohio University School of Theater
Oregon Shakespeare Festival
OSRAM SYLVANIA
Pathway Connectivity
PCPA Theaterfest
Penn State University
Period Corsets
Philips Group
PLASA
Players Press
PRG
Pulp Art Surfaces
Purchase College
Purdue Theatre
Rational Acoustics, LLC
RC4 Wireless/Soundsculpture Inc.
Robert Juliat America
Rosco Laboratories, Inc.
Rose Brand Theatrical Fabrics, Fabrications & Supplies
Royal Welsh College of Music & Drama
Rutgers University Theater
Sapsis Rigging Entertainment Services, Inc.
SCAD: The University for Creative Careers
Scully Inc
Sculptural Arts Coating, Inc.
SECOA
Serapid, Inc.
Shakespeare Theatre Company
Shure Incorporated
Smooth-On, Inc.
SM-Sim, LLC
Society of Properties Artisan Managers
Southern Illinois University
Stage Directions/PLSN/FOH
Stage Manager's Association
Stage Technologies
StageBitz
Stagecraft Institute of Las Vegas
Stagejunk.com
StageRight Corporation
StageSpot
StageWrite Software
Staging Concepts
Steeldeck Inc.
Steppenwolf
Studio Gear
Syracuse Scenery & Stage Lighting Co., Inc.
Temple University
Texas Tech University
The ESTA Foundation/ Behind the Scenes
The George Washington University    
The Ohio State University Department of Theatre
The Santa Fe Opera
The Shakespeare Theatre of NJ
The University of Alabama
The University of Georgia   
The University of Memphis
The University of North Carolina Greensboro
Thern Stage Equipment
Tiffin Scenic Studios, Inc.
TMB
Tomcat USA, Inc.
Trinculo's Attic
Tulane University     
UC San Diego Department of Theatre & Dance
Union Connector Co., Inc.
United Scenic Artists Local USA 829
University of Arizona
University of Arkansas
University of Cincinnati
University of Connecticut
University of Delaware
University of Houston School of Theatre and Dance
University of Idaho
University of Illinois
University of Michigan - Flint
University of Minnesota
University of Nevada - Las Vegas
University of North Carolina Chapel Hill
University of North Carolina School of the Arts
University of South Dakota
University of Wisconsin-Madison
University of Wisconsin-Parkside
Virginia Tech
Viterbo University
Wayne State University
Wenger Corporation
West Virginia University
Western Illinois University
Wireless Mic Belts
Wonderflex World
Yale University
ZFX, Inc.- Flying Effects