News From
Contributing Members
Sustainable Technologies Group: Welcome
USITT welcomes Sustainable Technologies Group as a new Contributing member of the Institute. Raymond Kent, LEED AP, CTS, DMC-D, STEP AP, Assoc AIA, ECA, EAVA,  is managing principal for the organization the goal of which is smart solutions to move business forward.
Mr. Kent has been honored for his work with "green" technologies and is an award-winning consultant, audiovisual design consultant, lighting designer, and technical theatre specialist.
To learn more, visit www.sustaintech-llc.com.
PRG: Lighting Fuels High Octane Performance
British pop star Robbie Williams brought this  high-octane production to the stage at London's O2 Arena for three nights of concerts, Live at the O2, November 22 through  24. The United Kingdom's best-selling solo artist, Williams' much anticipated return to performing full-set concerts also was a live television event, broadcast on the final night across England's Sky1 network. Production Resource Group, L.L.C., (PRG) provided the lighting package, including its Best Boy 4000 Spot Luminaire.
Catch a glimpse of the design and Williams' performance at the O2. For more information on the PRG Best Boy 4000, click here.
Stage Technologies: Fabricate Three Fancy Flights
Stage Technologies flew three major recording artists on three continents during a 24-hour period on the weekend of December 8 and 9.
The first gig took place in Dubai on December 8 at the Closing Ceremony of the World Parachuting Championships. Katy Perry performed at the show and flew during her entrance suspended under a prop parachute.
That same night saw rapper and boxing promoter 50 Cent descend from the rafters while performing his hit "My Life," prior to the start of the Juan Manuel Marquez vs.  Manny Pacquiao fight at the MGM Grand Garden Arena in Las Vegas.
Finally, a rentals team comprising staff from the Las Vegas and London locations flew P!nk at high speed in a four-way bridle around London's O2 arena, as an amazing finale to Capital FM' s Jingle Bell Ball. The flight took place during the singer's final song, "So What," and took her out over an ecstatic crowd.
For more information, visit stagetech.com.
GAMPRODUCTS, INC: Introduce New Safety Lights
The new GAM BLINKY blinking guide light and the MARK LITE, a continuous light, were recently introduced by GAMPRODUCTS, INC . Both are available in red or blue.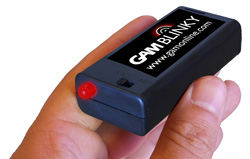 These devices are self-contained, battery operated LED safety lights. Place one at the edge of a platform, stick it to an overhead beam with Velcro, mark a passage, hit the spot. The MARK LITE is ideal for dancers to mark center stage or quarter stage.
The GAM BLINKY and MARK LITE have red or blue LEDs, driven by two AA batteries. For more information, contact: GAMPRODUCTS, INC., 4975 West Pico Blvd., Los Angeles, CA 90019. 323-935-4975 or www.gamonline.com.
Meyer Sound: Product Selected for Hall of Fame, System Aids Undefeated Season
The Meyer Sound HD-1 high definition studio monitor is a 2012 TECnology Hall of Fame inductee by the TEC Foundation for Excellence in Audio. The ceremony was January 26 during the NAMM Show in Anaheim, Calif. The company also installed its first LEO sound system in Ohio State's stadium, whose Buckeyes football team finished the season undefeated.
The HD-1 was launched by Meyer Sound in 1989. The original prototype, developed years earlier, was created as an ultra-linear testing device to be used in-house for evaluating instrumentation microphones in the SIM audio analyzer. The HD-1 was the only self-powered studio monitor when it was first launched, and remained so for a number of years. Gradually, the rest of the industry recognized the inherent advantages of self-powering.
The TECnology Hall of Fame "recognizes the innovations and companies that have made significant contributions to the advancement of audio technology." Nine other products introduced between 1878 and 1995 will be inducted along with the HD-1 at the Anaheim ceremonies, including the VU Meter, PZM Microphone, and MOTU Performer MIDI Sequencing Software.
The sound system installation in the 105,000-seat Ohio Stadium was the first permanent LEO installation in the world. Debuting this summer at major music festivals in North America and Europe, LEO is Meyer Sound's integrated system specifically designed for high-output reinforcement in larger arenas, stadiums, and outdoor rock festivals. LEO systems have also supported international events including the recent Nobel Peace Prize Concert in Oslo, Norway.
Wenger Corporation: Hold Video Contest Highlighting StageTek
Wenger Corporation is looking for the most creative video illustrating "Here's what we would do on a Wenger StageTek stage." The winner will receive $10,000 worth of StageTek staging and accessories. Details can be found on Wenger's website or Facebook page; the entry deadline is March 29.
Supported by more than 50 years of staging innovation, the new StageTek staging offers numerous advantages.  Handling is improved with fast, intuitive and instruction-free setup that maximizes labor efficiency.