Conference & Stage Expo
New Year's Resolutions!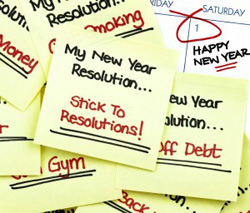 So another year has come and gone, and now that the Mayan apocalypse hasn't happened, the Costume Design & Technology Commission is trying to find a way to fulfill its New Year's resolutions at the Milwaukee 2013 Conference & Stage Expo in March. Here are the top five things to try:
Resolution 1: Lose Weight
While most try to get fit, sometimes the job is to add a few pounds to those pesky actors! A Pound of Flesh will show several methods and materials to create fat suits and pregnancy pads, and show some solutions to both long- and short-term dilemmas involved with gaining and shedding those extra pounds.
Resolution 2: Save Money
Reduce, reuse, recycle! Let's find a way to use those crazy '60s pillboxes to make cloches and Victorian masterpieces at Period Hats Out of Those "Unwanted" Donations. Save on money and labor, and keep hats out of the landfills!
Resolution 3: Learn Something New
Katharine Hepburn was a trendsetter and example of a quintessential Hollywood icon. See the costumes and clothing that changed a "common" woman into a goddess in Costumes of Hollywood Legend & Fashion Icon Katharine Hepburn.
Resolution 4: Honor Those Who Came Before
Be a part of a cross-Commission Distinguished Achievement Award Ceremony and Reception honoring Desmond Heeley for his contribution and impact upon both the scenic and costume design worlds. Come and see Desmond Heeley: From Toad to Tony and then be a part of this momentous evening honoring him for his work and career.
Resolution 5: Be an Example for Those Who Follow
Come and meet the newest members of the group for the Student Leadership Session. See their work and welcome them to the family as a member of the Costume Design and Technology Commission!
It is hard to believe, but sessions for the 2014 Annual Conference & Stage Expo in Fort Worth, Texas are already being prepared. Get this rodeo started. The Commission needs programming session suggestions for the Fort Worth Conference. To propose a session, complete the form and e-mail it to Jenny Kenyon, Vice-Commissioner of Programming, at jenkenyon@aol.com by Friday, February 15. All suggestions are welcome, and making a suggestion isn't an obligation to chair a session.