Conference & Stage Expo
2013 Conference Apps Available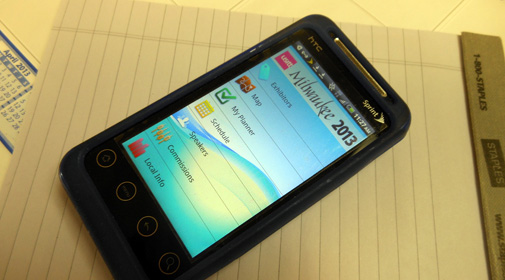 USITT is using Virtual Booth and Mobile App to provide digital planning and managing tools for its 2013 Annual Conference & Stage Expo March 20 to 23 in Milwaukee.
The a2z apps enable conference-goers to plan their activities ahead of time and manage them on-site using iphone, droid or tablet. These tools also help exhibitors communicate with staff, connect with attendees and streamline booth operations.
"This is something we tried to provide at last year's conference and failed miserably," said USITT Executive Director David Grindle. "This year we're doing it right. We'll be providing a platform that's robust and used by hundreds of conferences and trade shows. I think people will find it a great resource for planning and attending the conference."
The a2z mobile app automatically ports USITT's event website content and a searchable exhibit floor plan with virtual booths to any mobile device, plus a Facebook application. "You can use it to map out your route through Stage Expo  and even find exhibitor information by product category," David said.
For conference events, "You can use it to build your own session calendar, and sync it with your Droid or Google calendar," David said. "You can look up workshops, forums, and speaker bios, and there's even a place to type notes on each session and a 'Rate this Session' button."
The app comes with a "Buzz" feature that lets USITT update users, added USITT Stage Expo Manager Ron Procopio. "We can send a message to everyone to, 'Be in the keynote room in 10 minutes' or 'Go to this sponsor booth because they're giving away this' or 'Don't forget, there's a book-signing coming up.'"
USITT will be holding Webinars for exhibitors and members on how to use the apps; these will be recorded and available on the USITT website. Members will receive an e-mail about the webinars.
With the conference approaching, USITT is excited to be able to offer fun, user-friendly apps that will help make Milwaukee our best Conference & Stage Expo ever!