News & Notices
Five Receive Architecture Merit Awards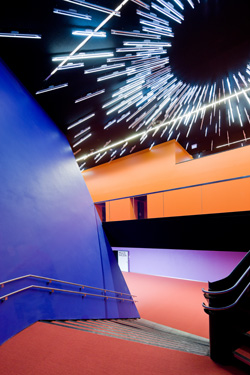 Three performing arts centers, an opera house, and a national parks visitor center will receive Merit Awards from the USITT Architecture Awards program in 2013. The awards recognize architectural excellence in performing arts spaces. No Honor awards will be given in 2013.
The 2013 Merit Award winners are:
Garsington Opera Pavilion, Wormsley Estate, Stokenchurch, High Wycombe, United Kingdom. Snell Associates Architect; Ian Mackintosh, TheatrePlan, and Anne Minors, theatre consultants; Sound Space Design, sound consultant.
Wagner Noel Performing Arts Center, Midland, Texas. Boora Architects; Rhotenberry Wellen Architects, associate architects; Auerbach Pollock Friedlander, theatre consultant; Jaffe Holden, sound consultant.
Valley Performing Arts Center, Northridge, California. HGA Architects and Engineers; Auerbach Pollock Friedlander, theatre consultant; McKay Conant Hoover, Inc., sound consultant.
Rosie the Riveter Visitor Center/World War II Home Front National Historic Park, Richmond, California. Marcy Wong Donn Logan Architects; Architecture and Light, theatre consultant; Charles M. Salter Associates, sound consultant.
Kilden Performing Arts Center, Kristiansand, Norway. ALA Architects Ltd., architects; SMS Arkitekter AS, associate architect; Theatre Projects Consultants, theatre consultant; Arup Acoustics (Concert Hall), Brekke & Strand Akustik AS, sound consultants.
Awards were chosen based on creativity, contextual resonance, functional operation, use of new technologies and community contribution. All are new projects completed since January 2011. They will be presented as part of the 2013 Annual Conference & Stage Expo March 20 to 23, 2013 in Milwaukee, Wisconsin where a reception will be held to honor them. Each project will also be represented in a special exhibition at Stage Expo.
USITT's Architecture Commission sponsors the awards, which are adjudicated by a panel whose recommendations are forwarded to the Board of Directors for final approval.
The judges for the 2013 Architecture Awards included Chicago-based Theatre Designer Robert Shook of Schuler Shook; Architect Timothy Hartung of Ennead Architects in New York; and Dawn Schuette, an architect and designer with Threshold Acoustics in Chicago.
Mr. Hartung also will be honored at the 2013 Annual Conference, where he will receive the USITT Distinguished Achievement Award in Architecture.
For information on the Architecture sessions planned for USITT's 2013 Annual Conference & Stage Expo, click here.