Conference & Stage Expo
Come for the Conference, Experience the Food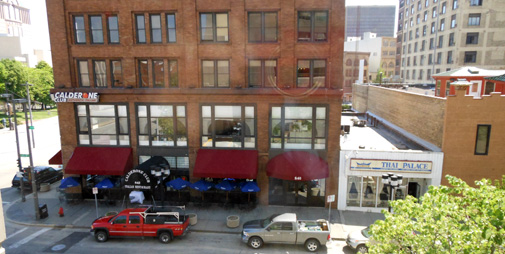 Planning to come to the Milwaukee 2013 Conference & Stage Expo Milwaukee this March? Great! In between sessions and activities at the conference, attendees are going to have to find a place to break bread with friends and colleagues. Within the immediate area of the Delta Center are many fine establishments and opportunities to sample the local fare.
First, to give a sense of place, the Delta Center (formerly the Frontier Airlines Center) is the site of the conference and is located on Wisconsin Avenue between 4th and 6th streets. Numbered streets run north and south and are west of the river. The Milwaukee River is the dividing line between east and west. Just south of downtown, the river bends to the east and becomes the dividing line between North and South. Mapquest or Google Maps will be a help. Within a short walk of the conference center, visitors will find a variety of cuisines: American, Chinese, Cuban, Brazilian, German, Irish, Italian, Japanese, Mexican, or Thai.
And remember, Urban Spoon is your friend.
Fine Dining
Bacchus - A four-star restaurant, sleek and stylish space, emphasizing fresh seafood, exquisite handmade pastas, and grilled-to-perfection meats, featuring an extensive wine selection and the highest service standards. (925 E. Wells St.)
Benihana – Welcome to the longest running dining show in the world, complete with a personal chef. Benihana, an experience at every table. (850 N. Plankinton Ave.)
Butch's Old Casino Steak House – A personal favorite. They have a butcher shop on the premises, and they cut and age their beef with great care. Their cuts are generous and infused with garlic (injected directly into the cut of meat). The biggest and best steaks in town. Casual atmosphere with great chops, ribs, and seafood. (555 N. James Lovell St.)
Capital Grille - The Capital Grille is a sophisticated, traditional steak house specializing in dry-aged steaks, chops, and fresh seafood. (310 W. Wisconsin Ave.)
Carnevor - Milwaukee's premier steakhouse, Carnevor has been lauded for its luscious barrel-cut beef, New York Strip, and bone-in fillets. The steak menu offers exquisite wet- and dry-aged USDA prime beef. (724 N. Milwaukee St.)
Cubanitas (21/30 Zagat) - Cubanitas is Milwaukee's first Cuban restaurant and bar serving authentic food and drinks such as Cuban sandwich, ropa-vieja, black bean soup, mojitos, and daiquiris. (728 N. Milwaukee St.)
Elsa's on the Park – This classy bar/restaurant has been a popular gathering spot with local urbanites and visiting celebrities for years. Elsa's attracts an eclectic mix for its unique combination of top-shelf spirits and casual dining. (833 N. Jefferson St.)
Ginger – Based on the Spanish tradition of tapas but with a unique Milwaukee slant, it offers petit tenderloin filet or tater tots, asparagus risotto or mac n' cheese, and cioppino or wings (235 South 2nd St.)
Karl Ratzsch's - Milwaukee's premiere German restaurant, family-owned and operated since 1904. It features the finest German entrees, game, fish, steaks, and homemade strudels. (320 E. Mason St.)
Kil@Wat at the InterContinental Milwaukee – In downtown Milwaukee where Kilbourn meets Water, you'll find one of the most "electrifying" dining experiences the city has to offer. The chic decor, hip attitude, and spectacular views of the city enhance Chef Zakroczymski's inspired culinary twists on familiar lunch and dinner favorites. (139 E. Kilbourn Ave.)
King & I – A staple in Milwaukee for over 20 years. Authentic Thai dishes. (830 North Old World 3rd St.)
Mader's Restaurant (18/30 Zagat) - In 1902, an ambitious young German immigrant, Charles Mader, poured his life savings into a speculative venture; Mader's Restaurant opened. Before the Wright Brothers and before Henry Ford's Model T, Mader sold cold steins of Cream City beer at 3 cents, two for 5 cents, and with a beer, lunch was free. (1037 N. Old World Third St.)
Mason Street Grill – The legendary Pfister Hotel is home to this classic American Grill where high-quality wood-grilled steaks, amazing sandwiches, and house-made desserts await. The lounge features live jazz Monday through Saturday providing a comfortable place to relax and unwind before settling in to enjoy a meal to remember. (435 E. Mason St.)
Milwaukee ChopHouse – Located in the historic Hilton Milwaukee, the Milwaukee ChopHouse delivers the perfect combination of flavors, presentation, and personalized service. (633 N. 5th St.)
Mo's…A Place for Steaks – Great steaks and great service in a fun, upscale atmosphere. Prepared-to-order steaks, chops, seafood, and chicken. Reservations suggested. (720 N. Plankinton Ave.)
Mo's Irish Pub – Authentic Irish pub serving great food, beer, and cocktails six days a week. Open for lunch and dinner; late night menu available until 1 a.m. Live music and traditional Irish bands. (142 W. Wisconsin Ave.)
Sanford's Restaurant (29/30 Zagat) Chef Sanford D'Amato and wife Angela owners. James Beard, Best Chef Midwest. Mobil 4 Star. AAA 4 Diamond. Highest Zagat rating for food in Midwest. Need I say more? Reservations required. (1547 N. Jackson St.)
Thai Palace - While the interior, and certainly the exterior, at Thai Palace are not nearly as glamorous as what one may find at neighboring Thai restaurants, the food here is sublime and the atmosphere is comfortable. (838 N. Old World 3rd St.)
Umami Moto - Elegant downtown restaurant and sake lounge. Dinner, late night menu, and drinks. (718 N. Milwaukee St.)
Zarletti – (24/30 Zagat) Traditional Italian fare inspired by the country cooking of northern regions such as Piemonte, Emilia-Romagna, Tuscany, and Les Marches. (741 North Milwaukee St. #1)
Fast Food
Culver's (275 W. Wisconsin Ave.) – Butterburgers – need we say more?
Jimmy Johns (225 E Mason St Ste 700) – "Subs so fast you'll freak!" Really, – you'll have your sub before you're done paying for it.
Subway (641 N James Lovell St) – Sub shop (or grinders if you're on the east coast).
Domino's Pizza (719 West Wisconsin Ave.)
Dunkin' Donuts (622 West Wisconsin Ave.)
Starbucks (509 W Wisconsin Ave)