News & Notices
La MaMa to Exhibit From the Edge: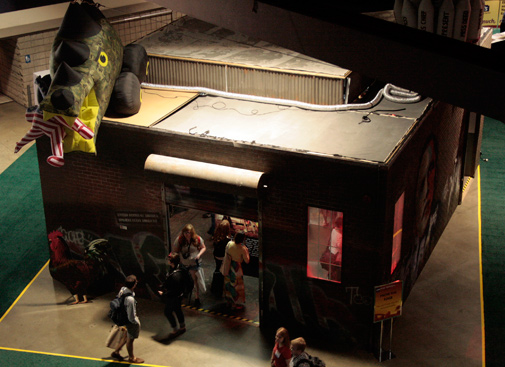 A portion of the USITT-USA National Exhibit to the PQ '11 will be exhibited in the La MaMa La Galleria in New York City, opening December 6. The showing will highlight USITT's continuing efforts to document and promote performance design in America, and introduce this exhibit to a new audience.
From the Edge, sponsored by the Institute, represented the United States at the Prague Quadrennial of Performance Design and Space in 2011. It features the works of 36 politically compelling productions from across America, selected by Artistic Director Susan Tsu and curators Chris Barecca, Linda Cho, Don Tindall, and Allen Hahn. Randy Gener, co-producer of the La MaMa La Galleria exhibit, acted as curatorial advisor during the selection process. Ms. Tsu conceived of the socio-political theme in order to identify theatre companies tackling the issues consuming Americans today including war, ecology, political polarities, race, gender, and religion.
Among the featured works are Paul Chan's Waiting for Godot set in New Orleans, Nancy Keystone's Apollo and The America Play, Rob Roth's Screen Test, and Basil Twist's Arias with a Twist. Special recognition is given to companies considered to be founders of innovative and political theatre.
Originally displayed in a garage motif designed by William Bloodgood, the pavilion reflected the workspace of seminal performance groups such as the Wooster Group. The outer walls were defaced with graffiti, while the interior was furnished with sawhorses and makeshift furniture, and splashed with paint in the frenzy of creativity. A model will represent the exhibit structure.
USITT has organized and sponsored the American participation in the PQ since the USA began participating in 1975. From the Edge is the 10th exhibit representing America in this singular world event dedicated to design for performance.
The exhibit, presented with additional support from Carnegie-Mellon University, will be open Wednesday through Sunday between 1 and 7:30 p.m. until December 16.