News & Notices
Announcements
Fellowship Application Deadline January 10
Applications for Fellowship Awards from USITT are now available, and the deadline for submissions is January 10.
Those interested in a particular area of study with a coherent theme that will result in significant excellence in scholarship or creative activity can find out more information here. The Grants & Fellowship Committee typically funds several fellowships each year up to $15,000. This year, the Committee will focus on proposals that strive to provide advanced research on the specific interests of applicants.
Member Author Program
Members who have had (or will have) a book published in 2012 (January 1 to December 31) are encouraged to participate in the USITT Member Author Program. Books in this program are sold at the USITT Annual Conference & Stage Expo in Milwaukee. Additionally, authors are invited to be part of a book signing during the Conference. Send title and publisher information to carol@usitt.org to be included in this great member benefit.
Catering at Conference Events
USITT offers a wide variety of food and beverages for all types of events at the 2013 Annual Conference & Stage Expo. Catered functions are easy to arrange; just contact Tracy Davis at the USITT office at 800-938-7488, extension 105, or e-mail tracy@usitt.org. She will provide menus once they become available and coordinate catering orders with Conference hotels and the Delta Center.
Groups Receive Stewart Award from PLASA
PLASA presented the 2012 Frank Stewart Volunteer of the Year Award to members of the Technical Standards Program's E1.6-1 Powered Hoist Systems Task Group and the Entertainment Technician Certification Program's Rigging Subject Matter Experts on October 18th at PLASA's Cocktails and Awards Reception.
The award to the E1.6-1 Task group was presented to Joe Champelli, Kimberly Corbett, Chris Kaiser, Michael Lichter, Jack Miller, Jim Niesel, Pete Svitavsky, Steve Walker, and Task Group leader Harvey Sweet.
The award to the ETCP Rigging Subject Matter Experts was presented to group members Patrick Bash, John Bleich, David Boevers, Marcel Boulet, Eric Braun, Olan Cottrill, Dan Culhane, Brad Dittmer, Jim Doherty, Russ Dusek, Tony Galuppi, Kelly Green, Tom Heemskerk, Dan Houser, Glenn Hufford, Ed Kish, Eric McAfee, Joseph McGeough, Brian Miller, Joe Mooneyham, Walter Murphy, Mark O'Brien, Michael Reed, Stephen Rees, Bill Sapsis (chair, Arena SMEs), Peter Scheu, Loren Schreiber, Karen Seifried (chair, Theatre SMEs), and Gil Vinzant.
Researchers Sought
Anyone interested in being a contributing researcher for the upcoming publication of World Scenography, Volume II - 1990-2005 is asked to consider applying.
World Scenography Volume I, published this past summer, continues in the tradition of Rene Hainaux's Stage Design Throughout the World from 1935, and documents works that made a major impact on the world of performing arts between 1975- 1990. Volume I was published by OISTAT as a project of the OISTAT Publications and Communications Commission.
Publishers hope to have several more contributors from the USA working on Volume II and are looking for people who have an interest in writing about theatre design. This may appeal to those in academia who would like to add some publication to their curriculum vitae. There is a third volume in the works which will cover 2010-2025.
Editors Peter McKinnon and Eric Fielding will select approximately 30 designs/ designers from the United States to include in Volume II. Once these selections are made and assigned, researchers will gather pertinent information about a production and will write brief copy that succinctly explains the production's impact and/or significance.
For more information on doing research, visit the project website.
Company Donates Proceeds from App
ETC CEO Fred Foster presented a check for $23,423 to Behind the Scenes October 20 at LDI. The donation reflected ongoing proceeds from sales of ETC's iRFR (Radio Focus Remote for iPhone and iPod Touch) application.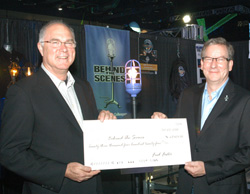 When ETC introduced the iRFR, which was developed by ETC software engineer Chris Mizerak, another employee, Luke Delwiche, suggested the profits be put toward Behind the Scenes and its UK counterpart Light Relief. Since then, both charities have benefited enormously. This check brought the total ETC donation to Behind the Scenes to just over $100,000. The ETC iRFR application is purchased through iTunes for iPhones and iPod Touches; no special hardware or factory-coding is required. Users simply purchase the app that corresponds to the charity they wish to support.
Individuals or companies can support Behind the Scenes by making donations online at www.estafoundation.org or by calling 212-244-1421.
Winners Announced at LDI
PLASA announced the winners of the 2012 Members' Choice Awards and the fifth annual Rock Our World Awards presented during LDI.
The Members' Choice Awards, presented October 20, recognized newly released, outstanding entertainment technology products. Voting on these awards was open to all employees of PLASA member companies who attended the LDI show. The 2012 winners are:
Expendable Category: NFG Tape from Rose Brand

Gadget Category: EverGrip 7 Pin Molded Socapex Compatible Motor Control Cable Connector

Equipment Category: 20 Amp Break out Box to PowerCON Connectors, Feed Thru by Lex Products Corporation.
The Rock Our World Awards, presented at the PLASA Cocktails and Awards Reception on October 18, recognize ground-breaking achievement by PLASA Members.
The winners were ELC Lighting for the Green-GO digital intercom system, and The Pan American Games in Guadalajara involving PRG.