News & Notices
Kent Honored with Sustainable Technology Award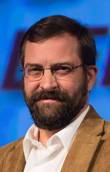 Raymond A. Kent, CTS, LEED AP BD+C, EAVA, ECA, DMC-D, received the 2012 Sustainable Technology Award from InfoComm International. Mr. Kent is managing principal of Sustainable Technologies Group, LLC and serves as director of Westlake Reed Leskosky's innovative technology design group.
Mr. Kent also received the USITT Ohio Valley Regional Section Peggy Ezekial Awards for both Outstanding Achievement for Audio Visual Desing (for the Allen Theatre complex at Playhouse Square in Cleveland, Ohio) and Outstanding Achievement for Lighting Desing and Audio Visual Design for the Mob Museum in Las Vegas, Nevada. The awards were juried and presented at the section's fall workshops at Kent State University.
Mr. Kent is Vice-Commissioner for Special Projects for USITT's Architecture Commission.
InfoComm International is the leading nonprofit association serving the professional audiovisual (AV) communications industry worldwide. The Sustainable AV Technology Award recognizes companies and individuals who have implemented environmentally sustainable practices in a variety of ways, from the manufacturing of products, to the integration of AV systems, to green initiatives in the workplace.
Mr. Kent is an award-winning specialist in the design and specification of audio-visual, show control, lighting, and theatre performance systems. He has worked in design and project management from New York to Los Angeles, with expertise in designing audio-visual systems for corporate, healthcare, educational, and civic clients as well as theatrical and AV systems for performing and cultural arts projects. Innovative technology projects have included tele-presence, audio-visual conferencing, digital signage applications, paging and background audio systems, classroom media technology, and room automation systems. His background includes working as a professional in the entertainment industry; he has taught design and technology classes at the university level, and has written two books on technology systems as well as numerous technical articles in major industry publications. He blogs for InfoComm International's AllVoices and will soon be a featured columnist for the online publication rAVe Magazine covering the topic of sustainability and technology.
He is part of a group of pioneers in the sustainable technology industry serving on the InfoComm International's Green AV Task Force. He is a co-author of the Sustainable Technology Environments Program (STEP) rating system and currently serves as chair of the technology task force for the STEP Foundation. He is an active participant in the Center for Sustainable Practice in the Arts and a frequent lecturer at conferences such as InfoComm, USITT's Annual Conference & Stage Expo, and the American Institute of Architects (AIA/CES Provider).
Sustainable Technologies Group, LLC provides state-of-the-art technology solutions with the environment in mind.