News From
Sustaining Members
Rhode Island College: Welcome New member
We welcome new Sustaining member Rhode Island College. Christopher A. Abernathy, professor of theatre design and technical direction and chair of the Department of Music, Theatre, and Dance, is the USITT contact for the college.
To learn more, visit www.ric.edu.
First Stage Milwaukee: Increases Support Level
First Stage Milwaukee has increased its level of support to that of Sustaining member. The organization, celebrating its 25th anniversary, has become one of the nation's most acclaimed children's theatres and Milwaukee's second largest theatre company. Its Theatre Academy teaches life skills through stage skills.
Find out more during sessions at the 2013 Annual Conference & Stage Expo in Milwaukee or at their web site, www.firststage.org
TMB: ProPlex Helps Light Ryder Cup Ceremonies
At the 2012 biennial Ryder Cup golf tournament, a team of United States all-stars challenged the European Cup-holders at the Medinah Country Club in Illinois. Lighting for the event ceremonies was provided by Theatrical Lighting Connection (TLC) of Chicago and included ProPlex equipment distributed by TMB.
ProPlex Devices are distributed exclusively worldwide by TMB. Learn more about the company's innovative and exciting products at www.tmb.com.
L-ACOUSTICS: The Dukes of September Take K1 to the Streets
The Dukes of September Rhythm Revue-- better known as Donald Fagen, Michael McDonald, and Boz Scaggs, along with a seasoned nine-member backup band--recently closed the final chapter on a very successful 43-show North American tour. The outing was a combined effort between Detroit-based Thunder Audio, which supplied the monitor package for Fagen, and Escondido's Sound Image, which handled monitor packages for McDonald and Scaggs as well as provided FOH control and a full L-ACOUSTICS K1 system for the duration.
The K1 system, which had just come off of the road with Tom Petty and the Heartbreakers, was prepped by Sound Image in Nashville for the Dukes' first show at St. Louis' Fox Theatre.
L-ACOUSTICS is a leading innovator and manufacturer of high-performance loudspeakers, amplifiers and signal processing devices for touring and installed sound markets.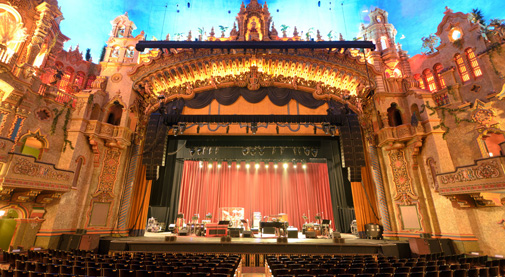 Stagecraft Institute of Las Vegas: Applications for 2013 Classes Available Online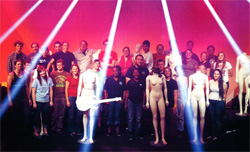 Stagecraft Institute of Las Vegas 2013 applications are available online here. SILV classes will include CAD, Rigging, SFX, Automation, Foam Arts, Audio, Make-up and Prosthetics, Lighting Tech, Pre-visualization, Design Charette, and a two week session on Movers and Digital Media.
Classes are taught by top working professionals in each field who offer students the kind of experiences that will give them a step up in their careers. Students see a show every week complete with hands-on contact with a backstage or industry component.
Classes fill up quickly and a limited number of scholarships are available.
Norris-Whitney Communications Inc.: Assistant Editor Named
Michael Raine has been named assistant editor at Norris-Whitney Communications Inc., publisher of Canadian Musician, Canadian Music Trade, Professional Lighting & Production, and Professional Sound magazines.
A graduate of Humber College's post-graduate journalism program, Mr. Raine will work alongside NWC Editor Andrew King on editorial content for each of NWC's four publications. He will connect with readers and clients to gather and produce interesting and informative content. Information on new products, industry or company news, events, or other subjects relevant to the Canadian music, musical products, professional audio, lighting, video, staging, and production technologies industries should be sent to his attention. He can be reached at mraine@nor.com or 905-641-3471.
Nemetschek Vectorworks: To Name Scholarship Winner
The recipient of Nemetschek Vectorworks, Inc.'s  the Vectorworks Young Architects Student Scholarship will be announced December 14. The scholarship  provides $2,500 to an outstanding student pursuing either an undergraduate or graduate degree in architecture in the United States.
For additional information about The Vectorworks Young Architects Student Scholarship, visit www.vectorworks.net/scholarship or contact Alice at alowy@vectorworks.net.
For more information about the company, visit www.vectorworks.net.
Meyer Sound: MythBusters Test 'Frequency of Fear'
When Discovery Channel's MythBusters set out to test the claim that subaudible, low-frequency sounds near 19 Hz can instill feelings of discomfort, dread, and even outright terror, they turned to Meyer Sound and Dr. Roger Schwenke, the company's staff scientist and honorary MythBuster, for assistance. The episode was aired on October 28.
Filming for the "fear frequency" segment took place in and around four abandoned cabins at a secluded forest resort in Northern California. To test the theory, the show enlisted 10 volunteers to spend time in the cabins.
"One cabin was subjected to infrasonic sound while the other control cabins had no sound," said Dr. Schwenke. "Although the cabins were essentially identical, the idea was to ask the participants if one cabin seemed more eerie or frightening than the others."
Unbeknownst to the subjects, a U-shaped array of nine modified Meyer Sound 1100-LFC low-frequency control elements was hidden behind one of the cabins to create the ultra-low sounds. It turns out that nine were more than were needed. "We had to be careful with the level because, at around 95 dB, we started rattling the cabin walls," recalls Dr. Schwenke. "That would have been a dead giveaway."
The 2012 Halloween edition marks Dr. Schwenke's seventh appearance on the popular TV series. In previous episodes, he applied his expertise and Meyer Sound technical resources to urban myths associated with movie gunshots and explosions, extinguishing flames with sound, the echo of a duck's call, a human voice breaking glass, and the infamous "brown note."
Alcons Audio: Brewery House Sound 'Lager' Than Life
A former brewery may not seem the obvious choice for a live venue, but that is exactly the new use for Stockholm's Bryggarsalen. A newly-installed Alcons Audio system ensures that the sound for live events has a crisp head and a full body. Just like a good ale, in fact.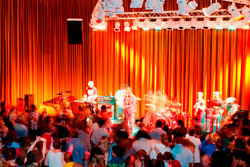 Originally built in 1914, the Bryggarsalen (Brewery House) ended its first incarnation as a brewery in 1970. The ensuing 40 years saw the building put to a variety of uses until its rebirth as a live music and corporate event venue in 2010. With a restaurant and two bars complementing the event spaces, it's already extremely popular.
Bromma-based Electrosound knew that Alcons would deliver in what proved an acoustically challenging room. Originally it contained the washbacks for brewing the beer (giant vats where liquid wort is mixed with brewer's yeast), so has a high ceiling with tiled walls and floor. In addition, a balcony at the rear of the space has another flat, tiled wall facing the stage, with two sets of marble stairs leading up to it. This profusion of hard, flat surfaces made careful product selection essential.
For more information, visit www.alconsaudio.com.