Conference & Stage Expo
Embracing the Excitement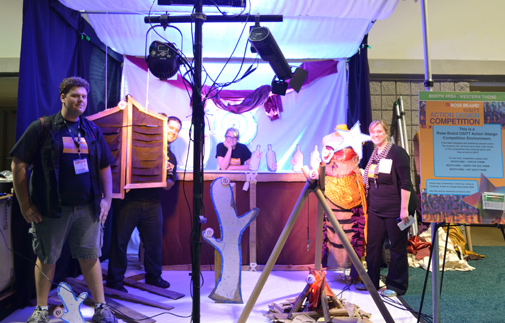 Some of the dynamic parts of the Annual USITT Conference & Stage Expo event are the special areas of the floor and interactive programs from exhibiting companies. This year is no exception, and features more participation than ever before.
The Innovation Gallery & Stage (not to be confused with the New Products Showcase) is an area designed in a museum format – the gallery -- showcasing products released in the past year by exhibitors. Here participants will be able to get up close and personal with these unique pieces and learn about their use. Adjacent to the gallery is the Innovation Stage which will feature 20-minute demonstrations by the participating companies. These scheduled events will be open to all attendees and will show exactly why USITT's Stage Expo is the leader in technical innovation! (Limited to 12 participating companies; contact Ron Procopio for more information.)
Not to be outmatched, the New Products Showcase has been converted to a real showcase. The New Products Brag & Swag event is a party atmosphere where everyone reverts back to early elementary school days and participates in a short show and tell. Companies will get to tell the audience, in a very short three to five minutes, why their products and services are the coolest. In between the presentations, collect as much vendor swag as can be held. This party is a must attend event!
A recent addition to the Stage Expo floor is the Rose Brand Competition. Four teams of design students will participate in creating themed environments based on designations given to them by Rose Brand. In a Survivor-like setting, teams are only allowed to use the mystery items given to them or which they are able to borrow by negotiating. These exciting areas will be created before attendees' eyes, truly showcasing the talent and resourcefulness of USITT members.
Be in Milwaukee this March and be part of the excitement as the Institute comes together to learn and connect at this exciting event.