News & Notices
Two Days in the Life – with a Fellow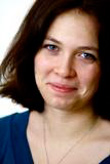 I was sitting in a workshop during the USITT Annual Conference & Stage Expo when my phone started vibrating. I tried to ignore it, but it wouldn't stop. Finally, I checked my cell and saw I had about three missed calls from a professor who had convinced me to attend USITT that year, not to mention the 10 or so texts from friends who were also at the conference. Most of them had a variation of: "YOU WON THE FIND A FELLOW THING!! GET TO THE EXPO FLOOR!!"
I couldn't believe it. I never win anything. Ever. About half a year later, I was on a plane headed for the Oregon Shakespeare Festival and my Fellow Mentor, Richard Hay.
I was very excited. Richard had gotten me tickets to see several shows with the intent for me to critique each one. I was worried, though. What if Richard and I didn't have anything to talk about? What if he was crazy? What if it was very, very, very awkward? Fortunately, none of these things happened. He picked me up outside of the airport, gave me a ride to my Shakespeare-themed hotel, and made plans to meet me at 10 a.m. the next day.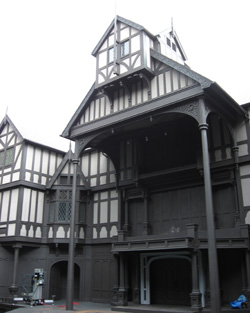 Over the next two days, I woke up and walked the six minutes to the theatre ready to learn and experience everything I could. Richard took me on a tour of the entire Oregon Shakespeare Festival campus. I never had imagined that something theatre-related could take that much space. This entire time I was completely "nerding out" while backstage and in the shops. Everything was bigger and better than anything I had ever seen.  My favorite place was the Light Shop; it was there I started to notice that something about myself had changed.
Each day after the tour (the campus was so large it took two days to see the whole thing), I saw two shows: Romeo and Juliet, and Animal Crackers the first day; Troilus and Cressida, and All The Way the second. I had come to the Festival to look into props, but the thing that kept on catching my attention was the lighting in both shows. I started to think about how much I enjoy both lighting and props. Last semester, I had started spending more and more time in the lighting areas of the University of Montana theatre department. I had discovered a new love and source of excitement while in Ashland.
Besides seeing shows and the Ashland campus, I enjoyed spending time with one of regional theatre's most celebrated designers, Richard Hay. He talked to me about his life experiences, both professional and non-professional. On Sunday, we walked to the design studio and he showed me his model and research for the show Animal Crackers. It amazed me that he could turn a couple of pictures into a model and that model into a set that thousands and thousands of people would see onstage.
Attending professional shows and this experience in general was more beneficial than I had imagined. It gave me direction and a chance to talk to a professional about how he had gotten to this place in his life. All in all, I wouldn't change a thing about my weekend with a USITT Fellow.