News & Notices
E$$ay Contest Opportunity for Theatre Writers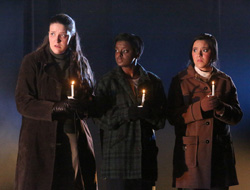 A national essay contest with a $2,500 prize offers a great opportunity for theatre writers. The 2013 Amy & Eric Burger Essays on Theatre Competition at the University of Wyoming is seeking submissions of essays on the theatre by March 12, 2013.
The contest offers $2,500 for the best unpublished essay of 1,800 to 7,500 words written in English on any aspect of drama or the theatre. Topics on film and television are excluded. To enter, mail two copies of the essay without the author's name on them, plus a separate cover letter with the essay title and the author's name, address, phone number, and e-mail address, to: National Amy & Eric Burger Essay Competition, University of Wyoming, c/o Dr. Jim Volz, President, Consultants for the Arts, Theatre & Dance, PO Box 6850, Fullerton, CA 92834-6850.
Essays must be mailed first class, postmarked by March 12, and received by March 18, 2013. A winner will be notified by June 1, 2013.
The contest is funded by donors to the University of Wyoming's College of Arts and Sciences. Past winners of the annual contest have included New York playwright Deborah Brevoort, author of The Women of Lockerbie, and Curt Tofteland, director of the award-winning independent film Shakespeare Behind Bars.