News From:
Sustaining Members
University of Alabama: New Sustaining Member
The University of Alabama upgraded its level of membership to that of a Sustaining member just prior to the 2011 Annual Conference & Stage Expo in Charlotte, North Carolina.
Those who attended might have noticed a fairly large contingent from Alabama who were taking part in the event. Learn more about their programs at www.as.ua.edu/theatre.
SERAPID: Welcomes New Staff
SERAPID, Inc. is announced the hire of Mike Wilson who will join the engineering department as the electrical engineer.
The company recently installed a stage lift system in the Arthur Miller Theater within in the Charles R. Walgreen, Jr. Drama Center at the University of Michigan in Ann Arbor.
A three-column SERAPID LinkLift system was installed in the theatre, which houses the Theatre and Drama Department of the School of Music. The Theatre is designed as a courtyard and can be configured either as a thrust or end stage for 250 seated audience members.
For more information, visit the company website, send an e-mail to: info-us@serapid.com, or call 800-663-4514
TMB: Finland City Awash in Light
The city of Kangasala in southern Finland, with its natural beauty and mineral water springs, has been a popular travel destination for centuries. When it was time to refurbish the street and public area lighting, it was also an opportunity to put an inviting face on the gateways to the city. The task was given to renowned lighting design firm VALOA which turned to TMB to provide LumenRAdio's CRMX RGB LED fixtures..
Fixtures were integrated into a large number of lighting poles and bollards spread along the streets and intersections located on the perimeter of the city to give visitors a warm welcome and a pleasant goodbye to remember.
LumenRadio offers a wide range of wireless lighting control. TMB is exclusive distributor for LumenRadio in North America and the UK. Click here to find out more about LumenRadio. Learn about other innovative products offered by TMB at www.tmb.com.
Stagecraft Institute of Las Vegas: Institute Adds Weekend Classes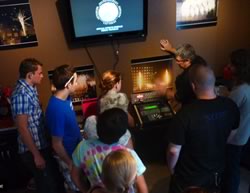 Stagecraft Institute of Las Vegas is just weeks away from kicking off its fifth season of intensive courses in cutting edge, live entertainment technology.
Beginning on June 6 and concluding on July 29, eight weeks of specialized training in a total of 17 topics will be offered. One new thing this season is the addition of weekend classes. Designed to address new areas of special interest, these two-day classes pack a lot of training into a weekend. Sessions will include Instrumentation, Presentation and Portfolio, Foam Carving, Management, Gobo & Color Magic, and Design Charette.
Get to know the faculty by visiting www.stagecraftinstitute.com/faculty.htm. Visit www.stagecraftinstitute.com for further information.