Commissions
Education Commission Busy at Conference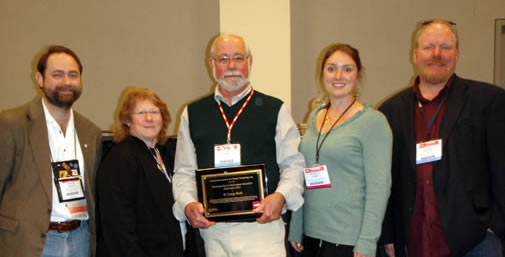 The 2011 Annual Conference & Stage Expo in Charlotte was an exciting time for everyone who was able to attend. Members of the Education Commission found themselves drawn across Commission and Regional sessions, onto Stage Expo, and into important committee meetings.
William Kenyon, Vice-Commissioner for Awards and Publications, was recently appointed the USITT Education Liaison to OISTAT and will replace Shan Ayers as the USITT Education Commission liaison to the International Committee. Mr Kenyon will represent all USITT and educational commitments when attending the Prague Quadrennial, as well as when attending OISTAT meetings. Anyone with an idea for an article for TD&T that deals with an educational topic can send it to David Rodger and Mr. Kenyon for consideration.
One of the Commission's highlights was presenting R. Craig Wolf a Distinguished Achievement Award in Education. Mr. Wolf spoke about his experiences.
David Navilinsky has become the Commission's poster session guru. Those with an idea for a poster that relates to education should contact him and pitch it to him. Mr. Navilinsky will send proposals to the jury, which will review them without names associated, and provide their opinions to Mr. Navilinsky who will then reply to the submitter.
Adam Mendelson and Tony Hardin worked to streamline the session proposal and selection process for the Education Commission, working to move as much as possible to an online system. It went pretty well this year and will likely be improved for upcoming years.
Sessions for the Long Beach 2012 Annual Conference & Stage Expo are already taking shape.