News From Joe Aldridge, USITT President
Staying Busy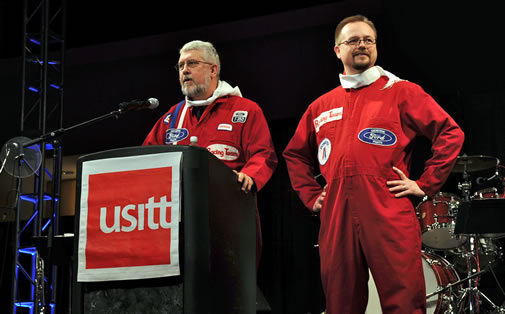 Usually, once the Annual Conference & Expo ends, we have a bit of a breather to start thinking about summer productions and projects. This year, instead of taking a break from intense action, we're launching new programs and thinking up new ways to serve members.
Our first Elite Training will be at the Cirque du Soleil training facility in Las Vegas in May. They might even have a Presidential Visit, if the National Office can find the appropriate escort vehicles and secret communication bandwidths for my travel across town. We're already considering the next opportunity we can offer our members, because we all know you've got to keep learning, keep trying new things, and keep busy.
Applications are now online for our Rigging Safety Assessment Initiative, and the form is simple and easy to understand. There are diagrams, too, which help administrative types when they have to answer a few simple questions. Our first inspection and training should be happening in late April or early May, with more to follow as we get underway with this program, spurred by the generosity of our founding sponsor J.R. Clancy, Inc. We're looking for both schools and contractors who wish to participate. We received our first application from a school needing an inspection and have received numerous applications from contractors who wish to perform inspections. This initiative is well on its way!
These are just two of the things we're likely to discuss on June 3, when the Board of Directors holds its next web-based meeting. Anyone can be a part of these virtual get-togethers where the board discusses the direction of the Institute. Shannan in the National Office can provide directions on how to sign in to see and hear what is being discussed. The meeting starts at 1:30 p.m. Eastern time, and will usually last about an hour, so that is not too much of a time commitment.
There are lots of new things, but that doesn't mean our old favorites are disappearing. Instead, they are moving forward with energy and enthusiasm. The Ask A Fellow campaign at the 2011 Annual Conference & Stave Expo has expanded to web pages for each of our Fellows on the USITT website. Click through and see what they have been doing, and ask them questions, too. The Fellows' reception area at the Conference was decidedly a hit as well.
The few times that I was able to wander down to Stage Expo, I noticed that members were taking advantage of the opportunity to speak with the Fellows. One of my students from UNLV was able to sit and chat with Richard Pilbrow at the conference and came away with an entirely different view of the reasons that the Fellows (and others) were making themselves available at the Conference. It is an opportunity for them to give back and to share. Take advantage of the opportunity whenever it presents itself; you won't regret it!
You can always contact me if you have something on your mind. We had great feedback from putting a star on the badges of people attending their first Conference. It was great to hear about people taking the time to welcome newcomers, and to hear that those newcomers felt they were part of our organization.
So, new member or veteran, join the conversation. We're staying busy, and we hope you are too.
I was wearing that red pit crew suit at the 2011 Closing Night party because we're sure speeding into the next adventure. Stick around for the ride.