Conference & Stage Expo
Farewell Charlotte, Hola Long Beach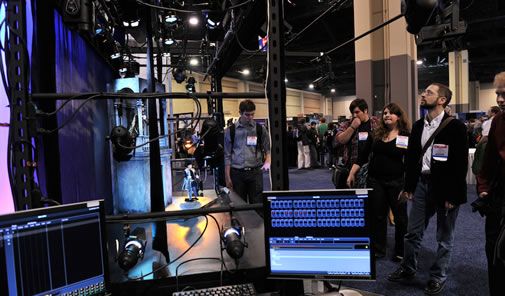 Total attendance at the 2011 Conference & Stage Expo in Charlotte was just over 4,200, which kept Stage Expo exhibitors busy all three days of the show. With 175 exhibitors in 27,750 square feet of exhibit space, and a wide variety of special exhibits, Stage Expo 2011 filled exhibit halls B & C1 of the Charlotte Convention Center.
Per usual, a large crowd gathered for the Stage Expo Opening. As the lobby of the Convention Center and the mezzanine above began filling with attendees, suddenly opera music filled the air, and one by one, four singers from Opera Charlotte stepped out of the crowd to perform. This was a "Random Act of Culture", a program funded by the Knight Foundation. If you missed it, or want to see it again, a video of the performance is on YouTube at http://bit.ly/eY8Ma7.
Then VP Conferences Dave Will waved the green flags, the USITT tape was cut, and the crowd streamed into the exhibit halls to gather product information, see the latest technology, and collect swag. Exhibitors were extremely happy with the traffic at Stage Expo, in part due to the more than 800 people who visited Stage Expo 2011 on visitor passes.
Exhibitors were invited to reserve Long Beach 2012 booth space during the priority space selection held in Charlotte on the last day of Stage Expo 2011. A total of 83 booth exhibitors booked nearly 20,000 square feet of space during the priority space selection. Over 70 percent of the available booth space has been reserved for next year's show, so Stage Expo 2012 is already well on its way to filling two large exhibit halls in Long Beach.
The 52nd Annual USITT Conference & Stage Expo will be held in the Long Beach Convention & Entertainment Center, located in the heart of downtown Long Beach's entertainment district. Stage Expo 2012 will be in Halls A & B of the LBCC, which are on the lower level, with meeting rooms located on the first and second floors of the Convention Center. Those who were in Long Beach for the 1998, 2001, or 2004 USITT Annual Conferences will remember the ease of traveling from registration to the meeting rooms and down to the exhibit halls.
Booth space selection will continue until all available booth spaces are sold. Priority space selection for table spaces will be conducted in the fall. Anyone who would like to exhibit at Stage Expo 2012 in Long Beach should contact hpwillard@aol.com for more information.