News & Notices
Poulson Named Fellow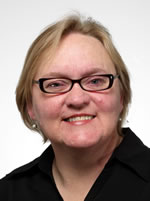 Cynthia Poulson was named a Fellow of USITT posthumously at an induction held as part of the Opening Night activities for the 2011 Annual Conference & Stage Expo in Charlotte, North Carolina.
Her achievements were described by Fellows Elynmarie Kazle and LeRoy Stoner, and her Fellows medallion and plaque were accepted by Travis DeCastro, a long-time colleague.
Mr. Stoner and Ms. Kazle's remarks follow.
Cindy Poulson passed away from heart failure at her home in Milwaukee, Wisconsin on June 27, 2006. A professional stage manager, she had been employed by the Pocono Playhouse, Syracuse Stage, and the Milwaukee Repertory Theatre where she served as production stage manager. She spent 15 years at the University of Wisconsin, Milwaukee as head of stage management first as an assistant and then as an associate professor where she developed the BFA and MFA programs. Cindy was involved with animal welfare, HIV/AIDS service, and women's shelter groups. She is survived by her brother Kurt and sister-in-law Cherie Poulson, who were the lights of her life.
She joined Actors' Equity in 1976. As a freelance stage manager, she worked at some of the great off-Broadway theatres including LaMamaETC and Playwrights' Horizons. Some of her favorite projects were collaborations with artists such as Ping Chong, Ken Albers, Tadashi Suzuki, Maria Irene Fornes, Amlin Gray, Romulus Linney, Jean Stapleton, Sandy Dennis, Eli Wallach, and John Cullum. Set designers Victor Becker, Patricia Doty, Arden Fingerhut, Hugh Landwehr, Laura Maurer, Michael Miller, Steve Rubin, Vicki Smith, John Story, Joe Varga, and Scott Weldin; lighting designers Don Darnutzer, Thomas Hase, Alan Lee Hughes, Bob Jared, Ken Kloth, Dan Kotlowitz, Peter Maradudin, Spencer Mosse, Robert Peterson, Kevin Rigdon, and Ann G. Wrightson; costume designers Charles Berliner, Judy Dearing, Sam Fleming, Michael Olich, Constanza Romero, and John Carver Sullivan; and sound designer Brian Hallas found her a capable theatre artist and collaborator in implementing their creative work.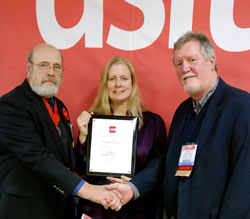 As a faculty member at the University of Wisconsin-Milwaukee, she was highly respected by her colleagues and appreciated for her understanding of professional theatre practice and how it could be incorporated as a model in the academy. Her teaching included many hours mentoring student stage managers as they negotiated sometimes treacherous waters between faculty directors, designers, and professional guest artists. She encouraged her colleagues to join her in the mentoring and created an enduring culture at UWM.
In her eulogy, Paulette Callen wrote, "No one loved life more or used it so well. She was interested in everything, knew something about almost everything, and cared about the important things. Wherever she worked, in whatever neighborhood she lived, she knew the names of everybody's kids and all their animals. In a mid-town New York restaurant, she engaged in conversation as easily and with as much delight with the waiter as with the celebrity at the next table."
Cindy's involvement in USITT began at the 1990 Annual Conference & Stage Expo in Milwaukee, Wisconsin. It was there that a large contingency of stage management professionals came together to discuss the future of stage management within the Institute. These discussions were initiated by the first of many highly attended stage management roundtables that brought more than 10 local stage managers to discuss issues with over 50 out-of-town attendees who identified themselves as stage managers.
Her involvement with USITT was strengthened when she was invited to serve as a stage management mentor for the 1993 Wichita Conference. From that point on, Cindy was one of the hardest working members of the Stage Management Mentoring Program. Though she was unable to mentor every conference due to recruiting duties, she served as a strong resource and an insightful guide throughout the building years of the program. She also initiated the practice of asking participants to contribute to the New Century Fund annually, and in this she led by example.
In 1994, when it came time to turn the program over to another leader, Cindy was the one who helped me recruit James Birder, its second coordinator, and she continued to help James as he transitioned into the leadership role. Along the way, she participated on many panels and symposia on stage management for the Institute, served on the Board of Directors at the time of her death, and put her mark on many a young stage manager who made their way through the program and the Conference for the first time. She was also the recipient of the Distinguished Achievement Award in Management from USITT in 2008.
I truly believe that, had Cindy continued her participation on the board and in the Management Commission, she would have eventually been named a Fellow during her lifetime. Her contributions to the area of management and more specifically stage management will live on in all of the members both young and old that she has touched.
"Cindy always knew how to talk to actors. Cindy always made them (us) feel confident and ready for an audience. Cindy knew how to finish a play, as well as begin it. She wasn't just about rules and paperwork. Cindy was about people. Her students who are now professionals, have mirrored that ability - not only in their work, but in their lives. Clearly, helping actors be in a place where they could do the play well, no matter what else was going on, was a keen factor in her teaching." -- Tyne Turner.
"She cherished her friends and had more than anyone of us probably imagined. If a measure of one's life is the friends one leaves behind, then she set a gold standard. She honored her father and mother in life and in memory. She loved her animals, her students, her art, her books, places she'd been, a good dinner, a fine wine." -- Paulette Callen
So, in memory of Cindy Poulson, keep doing what you're doing and know that you're very good at it. Go and be whatever it is you want to be. It is our honor and privilege to induct our friend Cindy as a Fellow of USITT.