News & Notices:
Announcements
Authors to Sign Robbins Monograph in NYC
Costume Designer Carrie Robbins will join authors Annie and Barry Cleveland for a special signing of the USITT monograph, The Designs of Carrie Robbins, in New York City.
The book signing will be held from 5 to 7:30 p.m. at Drama Book Shop, 250 West 40th Street, in New York City. The monograph, published by USITT in March, is the latest in the series on living American designers. Light refreshments will be provided.
International Artist Exchange Grant Created
The USITT Board of Directors approved an International Artist Exchange Grant at the Charlotte 2011 Conference & Stage Expo. This new grant will encourage academic institutions to collaborate on developing workshops, seminars, and productions involving international theatre artists. The grant will fund projects that include two or more institutions issuing an invitation to an international artist with an area of specialty covered by USITT member interests. Proposals will be assessed on USITT membership at each institution, credentials and recognition of the international guest, and the level of student involvement in the project. USITT will support up to $5,000 for each application and participating institutions will provide at minimum a combined match. Applications will be reviewed twice a year, in September and in February, and must be submitted no less than six months prior to the beginning of the residency. For more information and an application form, go here. The initial round of submissions will be evaluated September 30.
Standards Available for Review
Two more documents have been posted for public review on the PLASA website through May 30. They are ANSI E1.2 - 2006, Entertainment Technology - Design, Manufacture and Use of Aluminum Trusses and Towers, which is being considered for reaffirmation, and BSR E1.24 - 201x, Entertainment Technology - Dimensional Requirements for Stage Pin Connectors, which is a draft of a revision to the existing ANSI E1.24 – 2006. People and companies are invited to review these drafts to see if their guidance is reasonable and suitably complete.
ANSI E1.2 - 2006 is a standard describing the design, manufacture, and use of aluminum trusses, towers, and associated aluminum structural components. It can be purchased from The ESTA Foundation.
BSR E1.24 - 201x is a revised version of the existing ANSI E1.24 – 2006. The standard is being revised to clarify its use as a configuration standard giving the mating requirements for male and female pin connectors, contact set-backs from the front face, and marking requirements. The E1.24 draft is posted for free download on the PLASA website.
Behind the Scenes Winners at Conference
The Long Reach Long Riders and The ESTA Foundation announced the results of their joint raffle to benefit the Behind the Scenes program at the USITT conference in Charlotte, North Carolina. Sales of raffle tickets and BTS-branded swag raised just over $8,600 for the charity.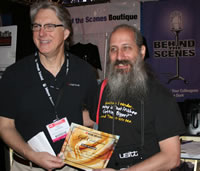 The winners are: Joe Aldridge – Apollo Design Technology's Smart Move DMX Gobo Rotator; Thomas Hird – BMI's Backstage Technician Package; Keith Newman – Scholarship to the 2012 CM Hoist School hosted by Mountain Productions; Chip Haas – Pneumatic effects kit and costume rental gift certificate from Norcostco; Majae White – Swisson X-MT-120-SET DMX Tester from Production Advantage; Mitch Hefter – Rosco's 6x6 LitePad HO+ and Single Fader Dimmer; Michael Katz – Rosebrand.com gift certificate; Steve Terry – two USITT 2012 Full Conference Registrations; Fred Allen – three pairs of tickets to the Utah Shakespearean Festival; Garrett Young – Vincent Lighting Systems gift certificate; The Grand Prize, Vectorworks Spotlight with Renderworks, went to Chris Riebold from Norman Sound & Productions in Charlotte.
A large crowd gathered for the festivities once again emceed by Bill Sapsis, garbed this year in pirate togs. Pre-raffle activities included the presentation of the annual Rosco contribution from the sales of Roscolux #359, the donation of proceeds from the Jig Show presented by Beth Martell, give-aways for the crowd provided by Daktronics, and the auctioning of two tickets to the Viva ELVIS show in Las Vegas provided by Cirque du Soleil and a DMX/RDM Coffee Pot provided by Doug Fleenor Design.
For more information about Behind the Scenes, to donate, or to apply for a grant, visit www.estafoundation.org/bts.htm. For more information about the Long Reach Long Riders whose 2011 ride runs July 1 to 9 and starts and ends in Billings, Montana, visit www.lrlr.org.
Roscolux #359 Benefits Behind the Scenes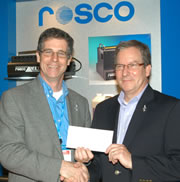 Rosco Laboratories and The ESTA Foundation presented a check for $2,889 to Behind the Scenes from sales of the color Roscolux #359 Medium Violet. This brings the total contribution since the introduction of the color to more than $8,000.
Draft Dust Standard Review Ends May 2
BSR E1.40 - 201x, Recommendations For the Planning of Theatrical Dust Effects is available for public review through May 2.
A great variety of materials might be suitable for dust effects, either as dust lying on props and scenery or as aerosol clouds.The standard will help people to avoid inappropriate materials, to select those that are least likely to cause health or safety problems, and to use them with care.
PLASA to Support ENTECH 2011 Educational Stream
ENTECH 2011 show organizers have confirmed an agreement with PLASA. The event -- Australia's leading biennial trade show for the entertainment, live events and corporate installation sectors -- will be held from July 19 to 21 and will include a new stream in its educational program featuring international speakers from PLASA's extensive global membership base.
Over 4,000 visitors are expected to register for ENTECH 2011, and attendance at the seminars will be offered on a first come, first served basis. Visitors will be able to secure their seats for a seminar via the ENTECH website in the coming weeks.
Detailed seminar programs for the Educational Program at ENTECH 2011 and visitor registrations are available at the website, www.entechintech.com.