News & Notices
In Memoriam: Rodney J. Smith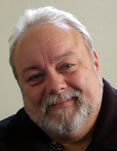 Rodney J. Smith, educator, scenic/lighting designer, arts center manager, facilities planner, construction supervisor, husband, father, grandfather, son, and brother; died March 27, 2011 in San Antonio, Texas. He was 58.
Rodney, graduated with a master's degree from San Jose State University, moved to Denver, Colorado where he worked in many of the area's major theatres, and taught at Loretto Heights College. In the early 1980s, Rodney worked for the Denver Center Theatre Company as a stage manager and production manager.
In 1989 he took a position with the City and County of Denver as the Assistant General Manager of the multi-facility Denver Performing Arts Complex. He later became the GM and the Director of Business Development for Denver's Theatres and Arenas. During his tenure with the DPAC, he was owner's representative and key team leader in the renovation of both the Arena into the Temple Hoyne Buell Theatre and the Auditorium Theatre's complete transformation into the Ellie Caulkins Opera House.
In 2006, Rodney became director of university events and conferencing at the University of Denver. At the time of his death, he was Managing Director for the Bexar County Performing Arts Center Foundation and its Tobin Center for the Performing Arts. He was supervising the construction project to remodel San Antonio's Municipal Auditorium into a new, world-class home for the city's premier performing arts groups.
Mr. Smith, one of the original members of the Rocky Mountain Regional Section of USITT in 1976, served on its Board and numerous committees. His professional associations also included the International Association of Venue Managers as a board member and Body of Knowledge Task Force participant.
He was known for his consummate knowledge of all facets of the performing arts business. His education and background in scenic and lighting design were critical building blocks for a career in planning, design, and construction of performance venues. Not only was he expert in getting them built, he knew how to make them work. He made it his business to get to know his staff members, showing a genuine interest in their lives and a compassion for them and their families.
As a dedicated arts advocate, Rodney spent countless hours championing the causes of all performing arts companies wherever he lived and worked. Orchestras, dance companies, and theatres knew him as a valuable resource for assistance and problem solving. Along with his wife of 25 years, Donna, and their son Nick, the Smiths were familiar and welcome supporters at fundraisers, show openings, and dance concerts. Mr. Smith is also survived by daughter Chelsea, her husband Jason, and their son Kieran.
The arts community in San Antonio was just getting to know Rodney through his boundless enthusiasm and they are now feeling a great loss. Through a long history working in Denver, Rodney has a legion of friends and colleagues who will miss their dear companion. Whenever you asked Rodney how he was doing, he would reply, "I'm living the dream." We will all remember his axiom and try our best to propagate that positive dream in Rodney Smith's memory.