Commissions
Costume Exhibits, Sessions, Wow Members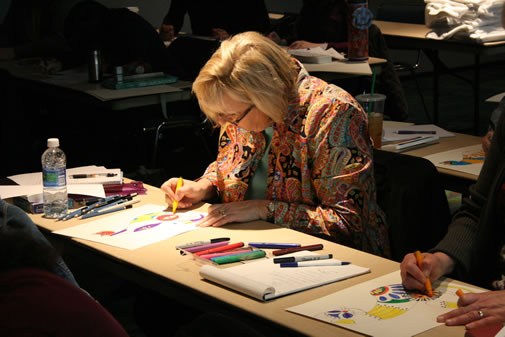 In a city named in honor of the British Queen Charlotte Sophia, Costume Design & Technology members found a variety of fabulous sessions at the Charlotte 2011 Conference & Stage Expo.
The events kicked off with a session introducing three amazing costume exhibits at Stage Expo. The exhibits featured garments from two renowned collectors, Gene London and Harriet Lake. The collections featured designs by Adrian, Edith Head, Elsa Schiaparelli, Bob Mackie, Coco Chanel, Christian Dior, and Adrienne Landau. Another costume collection came from the Mint Museum of Art's historical collection dating from the 18th to the 20th centuries. Charles Mo, the costume collection curator, presented selections from the museum at a session.
Sessions ranged from the art of creating a trued pattern from draped muslin to a hands-on technology session featuring a multitude of millinery techniques. For those interested in costuming for film, the conference featured a session that looked at the process of transitioning from a theatrical costume designer to a film designer. This introduction into the film industry then led to a session highlighting the creation of custom designed fabrics at Walt Disney Entertainment.
The Costume Poster Session was again a huge success. Hundreds of conference attendees took advantage of the opportunity to view the 22 unique poster presentations that shared ideas related to costume design and technology. In addition to seeing the posters and collecting handouts of the information provided, one of the most valuable aspects continues to be the chance to visit with the presenters and ask further questions about their projects. The poster authors included undergraduate and graduate students, as well as young faculty beginning their careers, alongside well-known and experienced costume education and industry professionals. Some were newcomers to the Conference and the poster session while others were long-time veterans of USITT. This year's juried presentations included design approaches, construction innovations, storage solutions, illustration techniques, historical research, and educational methodologies.
There were several sessions devoted to costume design. The session Posing Juliet dealt with how to create character bodies and poses to better display costume designs to directors. Another design session was a great help to those commission members interested in designing costumes for dance.
Each year, the Commission includes a session dealing with the ever changing world of technology and how it affects costume technology and design. This year a session was dedicated to creating portfolios in the 21st century providing insight into the development of digital portfolios in a web-based world.
The Conference featured two very special guests. A special international guest was Hakan Dundar. Mr. Dundar has designed costumes for over 100 productions in Turkey and around the world. This session led the audience through traditional Turkish dress and its influences on contemporary design.
Another featured guest was none other than Carrie Robbins. Ms. Robbins's presentation was a retrospective of her recent work, accompanied by her personal accounts of the collaborative process, problem solving, and varied approaches to traditional theatre, ballet, and opera, and how her influence is demonstrated in modern costume design. Only days after the conference, a costume distribution list was active with questions and comments regarding digital rendering and software all inspired by her work.