News & Notices
Three Special Honors
President Joe Aldridge presented two Joel E. Rubin Founders Awards to Bernhard R. Works and Richard Stephens, as well as an Honorary Lifetime Member Award to Timothy Kelly, as part of the Closing Night Celebration of the 2011 Annual Conference & Stage Expo. These awards are kept secret from those attending the Conference and those selected to receive them until the moment they are announced.
Mr. Aldridge's remarks follow:
The Joel E. Rubin Founders Award is given to a USITT member to recognize outstanding and continued service to the Institute. This award is kept confidential until now.
Dr. Bernhard Works - Joel E. Rubin Founders Award
The first recipient is Dr. Bernhard Works.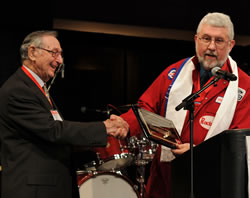 I learned early in the day that Bernie was going to duck out of the Closing Night party so that he could have dinner and pack for his departure tomorrow. What he didn't know was that his family had secretly flown to Charlotte to join him in celebrating this honor. Fortunately, I was able to call on a good friend to help him change his mind!
Selections from nomination materials:
"Dr. Works is a living history of USITT and the scenic technology field."
"Bernhard R. Works, Ph.D., spent his long career building world class students, facilities, and numerous professional institutions, including USITT. He was there at the beginning of USITT, acting as its first Vice President. He is one of the founders of the Midwest Regional Section. In 1984, he directed one of the first rigging workshops, a pre-Conference event featuring Jay Glerum, and continued that work in 1987 when he hosted the first stand-alone stage rigging workshop…"
"For USITT, Bernie and his wife Nancy sponsor the Frederick A. Buerki Golden Hammer Award…[and] regularly support the work of students through travel assistance to USITT. In 2007 they offered travel scholarships for students to join the construction team and attend the Prague Quadrennial…"
"Bernie has attended every USITT Annual Conference since he joined in the early sixties with the exception of 1980, which, incidentally, is the same Conference where he was named a Fellow."
"Bernie's career accomplishments are enough to qualify him for this award, but the measure of his import to our field comes from his generosity; his amazing continued financial support that assists students and young professionals to learn the discipline and begin their careers; the way he shared his passion with his own students; and the remarkable energy and spirit that he brings to every conference even at 81. He has brought so much to this institution and the field at large. It is clearly time to give back."
We are honored to present Dr. Bernhard R. Works with the Joel E. Rubin Founders Award at this Conference.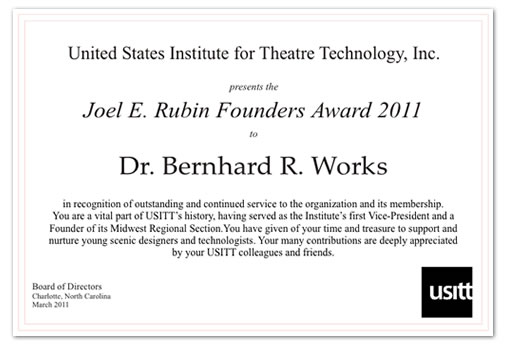 Richard D. Stephens - Joel E. Rubin Founders Award
The second recipient of the Joel E. Rubin founders award is Richard D. Stephens.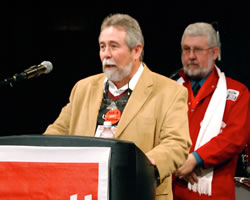 Rick was production coordinator and scene shop supervisor for the Performing Arts Center at the University of Texas at Austin before he retired. He attended the University of Hawaii and Murray State University.
Before going to the University of Texas-Austin in 1981, he worked theme parks, notably at Gun Town as a stunt fighter where he was hung, shot, or stabbed multiple times per day; he was also a magician at Gun Town and regional theatres including Theater Tulsa.
In Rick's own words, "Over the years I have worked as a carpenter, welder, scenic technician, craftsperson, shop supervisor, and technical director. I've, well, designed—yes, yes—sets and lights, for numerous productions over the years. What I am, very simply and very proudly, is a stagehand."
Since joining in 1980 Rick Stevens has proven a tireless member of and dedicated contributor to USITT. Rick's outstanding and numerous accomplishments and contributions include:
USITT Fellow
the Herb Greggs Award

Archive Committee Chair (2006 - present)

USITT Conference Committee member (1996 - present)

Living History Project Chair (1999-2005)

Board of Directors (1995-2001)

VP-Commissions (1992-94)

VP-Special Projects (1991-92)

USITT delegate (1990). Technical Production Congress of the OISTAT

TD&T associate editor for technical reports (1989-1996)

Technical Production Commissioner (1986-90)

membership on Gender Issues Committee, International and National Liaison Committees, Nominations Committee, Tech Expo Committee, and Membership Committee.
His nominator commented, "Rick has never learned how to do just one task at a time. Among his many contributions, he has remained a consistent face on the Annual Conference Committee since its inception in the mid-nineties. His role as a troubleshooter is an invaluable contribution to the success or our Conferences. He is the first to volunteer for any task no matter how small or how difficult. You can count on him to carefully think through each project analyzing how best to undertake it—as you would expect from a good TD. Rick takes on monumental tasks that are fraught with challenging problems, tough to resolve, and often require years to complete. But he is bound by his vision and inspired by the importance of the expected end result of a project. The result is an enormous benefit to USITT."
We are honored to present Rick Stephens with the Joel E. Rubin Founders Award at this Conference.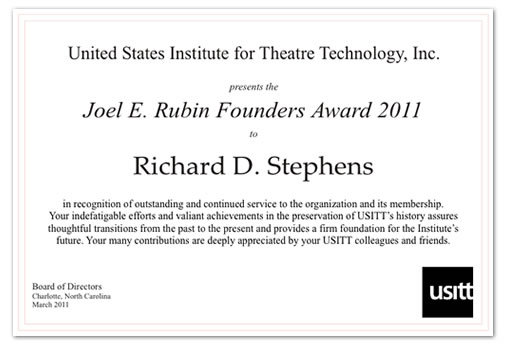 Timothy Kelly - Honorary Lifetime Membership
I am pleased to present one last award at this year's conference. It is the Honorary Lifetime Membership award to Timothy Kelly. This award is given to a member who is originally from Kansas; he attended Kansas State Teacher's College (now Emporia State University). He joined the Bonfils Theatre as technical director in 1968, serving for 10 years in that position. He then moved to Boettcher Hall in Denver as general manager.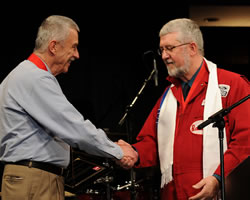 He created the facilities department of the Denver Center for the Performing Arts, and held the position of director of facilities management until he retired in 2008.
He is currently on the board of PHAMALY (the Physically Handicapped Actors And Musical Artists League) and heads up the committee creating Fellow's Network Nexus meeting site on the show floor. Tim has served as director-at-large on the USITT Board of Directors from 1998-2001. He also serves as chairman of USITT's Grants & Fellowship Committee and chairman of the Edward F. Kook Fund, to which he has devoted so much time and energy. He has also organized and chaired the tri-annual Art Auction to benefit that fund. In addition, Tim has been a great supporter of the initiatives of the Health & Safety Commission for over 30 years.
He received the 1999 Founder's Award (not yet renamed for Dr. Rubin), and has been tireless in his charming, quiet, continuous service to the Institute. A Fellow of the Institute since 1995, Tim has been tireless in his support of the theatre, the Institute, and the Fellows.
It is now my distinct pleasure to present this award to Tim Kelly.