News & Notices
Look Forward to Scenofest, WSD '13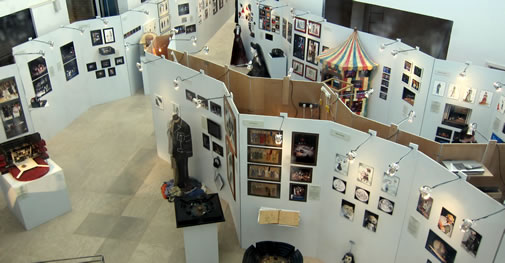 Now is the time to think about the the Prague Quadrennial stage design exhibition and the OISTAT Scenofest at the PQ in Prague this June. Most USITT members who plan to attend have already made their travel plans.
But for people who like to look well in advance, preliminary information was just released about the OISTAT World Stage Design 2013 which will be held in Cardiff, Wales from September 5 to 15, 2013.
The OISTAT World Stage Design International Exhibition of Theatrical Design, WSD, is held every four years between the PQ exhibitions. World Stage Design differs from the PQ because the PQ designer's work must be included in a National Exhibit, while for WSD any designer can enter designs. Sean Crowley, head of design at the Royal Welsh College of Music and Drama, is in charge of organizing WSD '13.
More specific information about WSD'13 will be available at PQ and in the June issue of Sightlines. Designers, schools, or theatre companies who wish to exhibit should express interest beginning in September 2012. The final submission date will be in March 2012. The application fee which will include two museum-like display walls and one plinth or hole in the display wall for a model; two spotlights for the display; a catalog of the exhibits displayed dimensionally; and a CD of all designs submitted and displayed digitally.
In addition to the WSD exhibition, there will be a Scenofest and a small performance festival.
At the recent OISTAT Executive Committee meeting in Cardiff, the current installation of the British Design exhibit "Transformation & Revelation" mounted by the Society of British Theatre Designers (SBTD) was reviewed. It is a large and outstanding exhibit which displays the best of British stage, costume, lighting, and sound design, and acts as a prototype display for WSD'13. The SBTD exhibit is at the Royal College of Music and Drama.