Conference & Stage Expo
2012 in Long Beach: What's Past is Prologue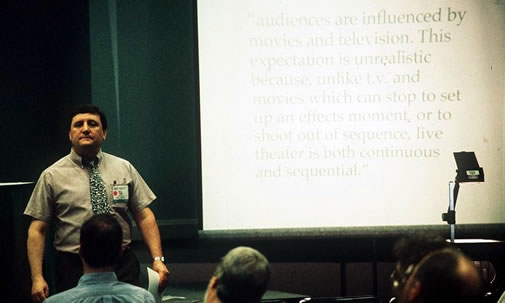 Looking for reasons to plan a trip to USITT's 2012 Conference & Stage Expo in Long Beach, California? It might be worth recalling the rewarding times members had at the Long Beach conferences in 1998, 2001, and 2004. The city's location provides many opportunities for diverse conference programming possible only in southern California. If the past is any indication, then the next Conference, (March 28 to 31 next year) should be both exciting and enlightening.
In thinking back to the 1998 Annual Conference, some might remember a day-long professional development workshop (PDW) bus tour of Lexington Scenic Studio and Cinnabar-Hollywood Scenic Studio, with a stop at Universal City Walk for lunch. Regionally-based Conference sessions covered such topics as the film sound production process, career alternatives in L.A. for students with a theatre degree, scenic design for regional television, designing for aquariums, special effects make-up for film and television, and design and production for the sci-fi series Babylon 5. Not bad for USITT's first Long Beach gathering.
In 2001, USITT continued to provide members with informative programs derived from resources in Los Angeles and Orange Counties. The PDWs included a museum tour to the Los Angeles County Museum of Art (LACMA), the Kaye Museum of Miniatures, and the Fashion Institute of Design and Merchandising's annual exhibit, "The Art of Motion Picture Costume Design." There was also a PDW on "Shopping L.A.," an all-day bus tour to costume rental houses, make-up suppliers, and fabric stores in downtown L.A.'s fashion district.
Attendees also had the opportunity to see a Tuesday evening performance of The Lion King at the Pantages Theatre on Hollywood Blvd.
The sessions included "Costuming for Film: The Art and Craft," "Armchair Prop Shopping" with Deborah Ann Hemela of Debbie's Book fame, "Design for Film 101" with John Iacovelli, and "Design for Themed Entertainment: Concept, Process, and Budgeting." Mary Heilman of Cal Arts chaired "Showbiz Painters: Scene Painting for Film and Television." There also were presentations on "Float Design and Construction for the Tournament of Roses Parade" and "Non-Theatre Employment for Theatre-trained Professionals."
For the 2004 Annual Conference, the workshops included another visit to FIDM's annual costume design exhibit and LACMA's Costume Collection. There was a trip to the Getty Center and the Huntington Library, Gardens, and Museum, and a theatre tour and performance at South Coast Repertory. The session topics included theme park lighting, the Warner Brothers Studio's costume warehousing system, specialty props for film and television, and a tour of the Walt Disney Concert Hall.
The design exhibits were particularly extensive in 2004, including the work of three southern California designers (Charles Berliner, Herb Camburn, and John Iacovelli) and designs produced over several decades for the Bob Baker Marionette Theatre in downtown Los Angeles.
Considering all that occurred at the last three Long Beach conferences, the 2012 version should be something very special. Start planning soon to attend, and get ready to take advantage of all that southern California has to offer.