News From Lea Asbell-Swanger, USITT President
A Hopefull Progression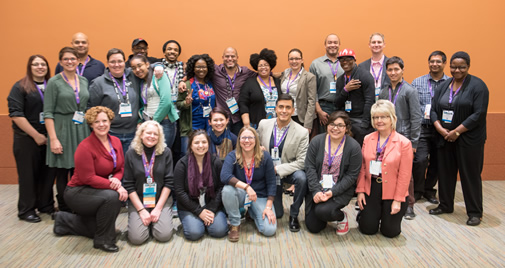 Many years ago, I saw a musical entitled Gone Missing created by a New York-based theatre company called The Civilians.  Based on interviews with a wide range of people, it is a collection of very personal accounts of things "gone missing"—everything from keys, personal identification and a Gucci pump to family heirlooms, family pets, one's innocence and one's mind—which I found to be a fascinating investigation into the ways in which we deal with loss in our lives.
For my last Sightlines installment as your president, I would like to consider loss not just as a personal experience, but as a unifying factor that has limitless potential. We've all experienced this phenomenon.  The small examples: neighbors assisting in the search for an escaped pet, fellow theatre-goers looking under seats for the lost earring, car keys or cell phone and the larger ones: community members donating to a family whose home is destroyed by fire or on a global scale people contributing to relief efforts in the wake of a natural disaster. 
In an instant a group is brought together for a common goal.  All involved instinctively recognize the need to act, to make things better, to find a solution.
It seems that whatever our differences might be, we all have some shared understanding of loss.  The most personal of losses – a family member, close friend, colleague or mentor, seem to evoke the most communal of responses.  The sharing of the absence by telling stories, resulting in both laughter and tears, that best represent the person lost is essential and cathartic.  It is through that sharing that discoveries are made and we find ways to honor the memory, yet still move forward.
USITT experiences loss and because we are a tightly bound network of people those losses are often amplified, but so is the supportive response to them.  I would like to remind you of two people that USITT lost and what those losses perpetuated.  These two were different in many ways: age, gender, ethnicity, background, industry specialty – the differences that are often too easy to identify and too often used to define or limit possibilities.
Their similarities: passion, impact, teaching, love of family, integrity, inclusion, and tenacity were how they were described by colleagues and friends and why they became the unifying factor for two USITT initiatives with limitless potential.
Tayneshia Jefferson and Jay Glerum left us, but what they left behind for us to find will change countless lives and improve not only our industry, but the world in which we remain.
The Diversity Initiative's Gateway Program grew out of Tayneshia's efforts to bring a broader representation of people in our industry to our organization. In two short years it has united hundreds of students and professionals who heretofore felt isolated, underrepresented and underappreciated, but who now are working together, redefining perceptions, and expanding the community we share.  The energy they brought to the Cincinnati conference was palpable – they will not allow this forward momentum to cease.
A participant in this year's Gateway Program commented in the follow-up survey "I wish I had known Tayneshia." What a wonderful tribute to Tayneshia and renewed responsibility on the part of those who will do their best to serve her legacy.
Similarly, the Jay O. Glerum Rigging Master Classes will carry forward this master rigger's expertise and unflinching adherence to safety.  It is because of Jay's efforts that we have recognized standards and recommended practices in rigging and his teachings are the basis for the professional certification the industry has come to expect.
His work literally saved countless people that he never met from being injured or worse.  On two separate occasions, I was fortunate to have the opportunity to hear many people that he did meet and teach talk about Jay's importance in their lives.
Most of these people are now recognized experts in this field themselves, but to a person, they expressed the importance of continuing Jay's teachings.  With their help and that of countless others the summer of 2016 will renew the tradition and classes will be available for riggers at various career levels from beginner to practicing professional.  We will all continue to be safer because Jay will continue to teach through others.
I realize that these were only two examples and that the pain of a loss is never totally erased, but I submit that the response to these losses is representative of the USITT community.  Its support for its individual members is awe inspiring.  I both witnessed it and benefitted from it in large and small ways, so thank you for allowing me the privilege of being a part of it.