The Last Word:
Ambassador Experiences Art, Tradition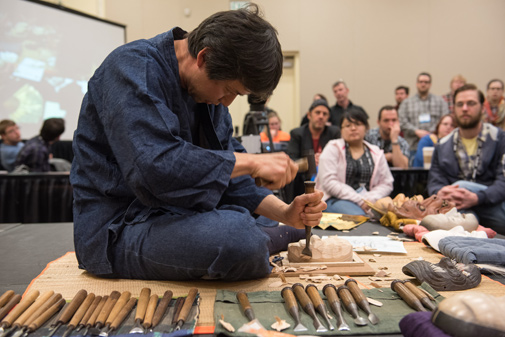 When I discovered that one of the international guests to present at the Cincinnati 2015 Annual Conference & Stage Expo was an artist from Tokyo, Japan and would be participating in the Student Ambassador Program, I knew I had to apply. My mother is from the Miyagi prefecture of Japan, and I spent much of my life studying my family history and tradition. With this unique upbringing, I did not want to miss an opportunity to meet Hideta Kitazawa.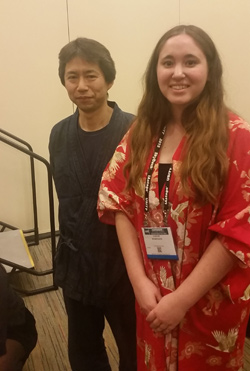 The more I learned about Master Woodcarver Kitazawa's art of making wooden masks and the preservation of traditional techniques used in Japanese Noh theatre for thousands of years, the more I began to understand the true beauty of theatre and the importance of history and tradition. This program gave me the opportunity to learn all about this great artist, and I want to share what I discovered about him.
I was nervous, but I knew I was extremely fortunate to have this amazing opportunity. At the beginning of the week, a luncheon was arranged for all the Student Ambassadors, all the  guest artists of the program, the founder, the co-founder, and the vice president. In a casual environment, we were able to relax and get to know each other,and I had a chance to share my portfolio with my guest artist.
The next day, the Student Ambassadors sat in a panel discussion to interview our international guests. We talked about their work and gained insight into their processes as artists, which was invaluable to the student audience who attended the session.
Mr. Kitazawa ended his time at the Conference with a remarkable session where he shared knowledge of mask making and Noh theatre. He demonstrated wood carving masks during the first half and then discussing Noh theatre traditions and his works in the second half.
Being a part of the program changed my view of what is possible, showing me that there are many opportunities in the world of theatre. I also found ways to explore my heritage and expand my interests in the rich history and tradition of Japanese Theatre.
I feel very fortunate to have been chosen to participate in this fantastic opportunity. This experience has changed my life and how I view my work as an artist, as a student, and as an individual.